EIGHT BRIDAL SHOE DESIGNERS YOU NEED TO KNOW ABOUT
At For The Love Of Pearls we're all about those luxury details, be it that statement denim jacket drenched in shimmering pearls, that chic chiffon garter or that sheer ethereal cover up - nothing beats the FTLOP touch. So, when it comes to your bridal shoes, we felt the same level of craftsmanship and sass should be met, which is why we've curated our definitive edit of eight bridal shoe designers you need to fall in love with…and fast.
Whether you're searching for a sole mate that instantly makes your heart beat faster with their skyscraper-worthy heel height or a pair of achingly cool bridal sneakers that mean you'll be able to dance - vintage champagne coupe in-hand - under the glittering stars all night long, our latest bridal shoe edit ticks off all the checkboxes. Heavenly silhouettes? Check. Sumptuous embellishment? Yep. Pearl details? Naturally. From the likes of shoe connoisseurs Charlotte Mills to Emmy London and Camilla Gabrieli, get ready for our latest wedding shoe edit to knock your socks off.
A firm favourite amongst brides (not to mention For The Love Of Pearls) British bridal shoe label, Charlotte Mills and her endless array of aisle-worthy shoes have been stealing brides' hearts across the globe for years. And, when it comes to details, this is a shoe designer with her manicured finger on the pulse. Each and every single pair of Charlotte Mills shoes arrive with the words "Something old, something new, something borrowed, something blue and a silver sixpence in her shoe", elegantly embossed on the sole, with a sparkling silver sixpence glittering from the insole. Our current fav? Meet Meghan Pearl.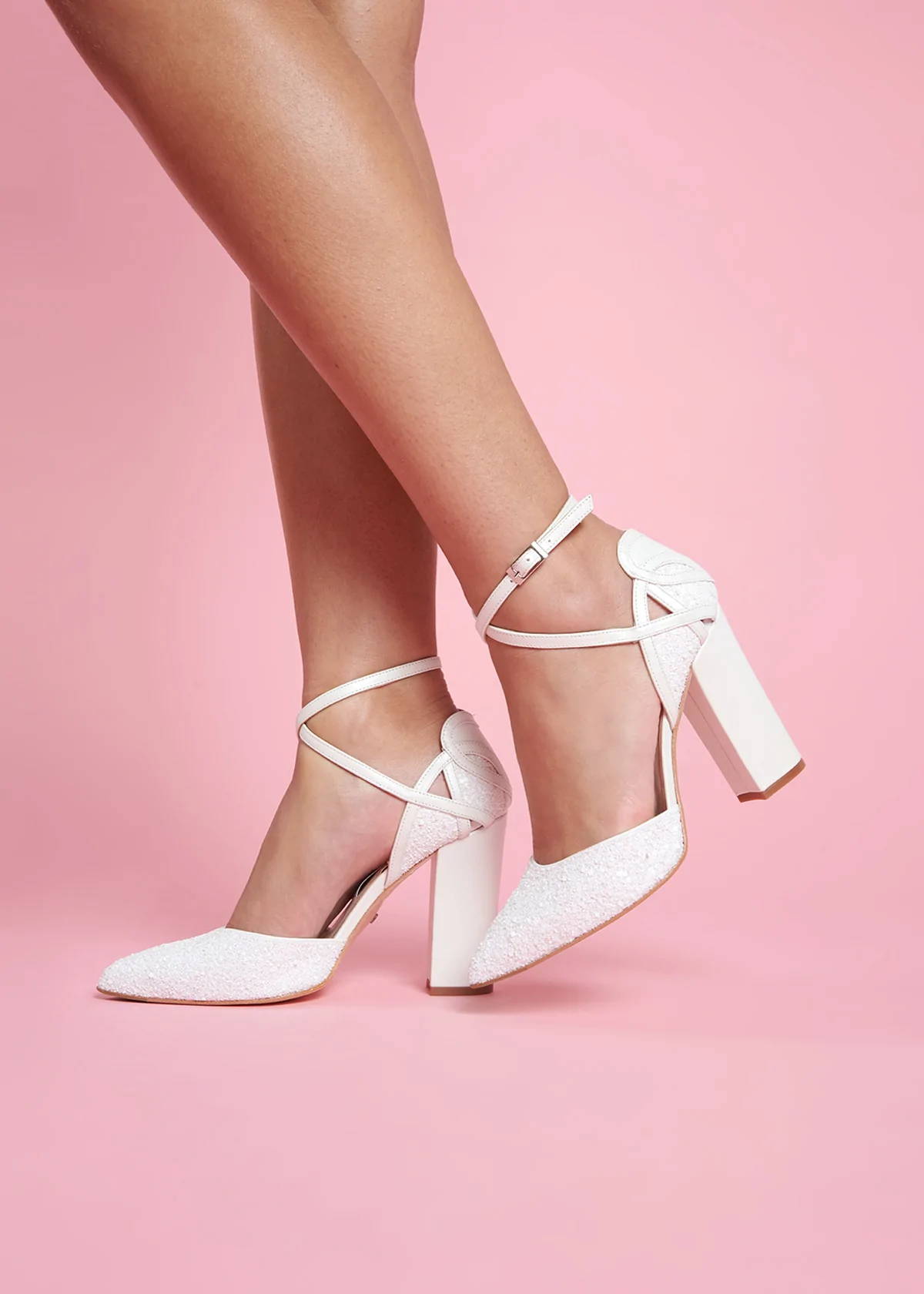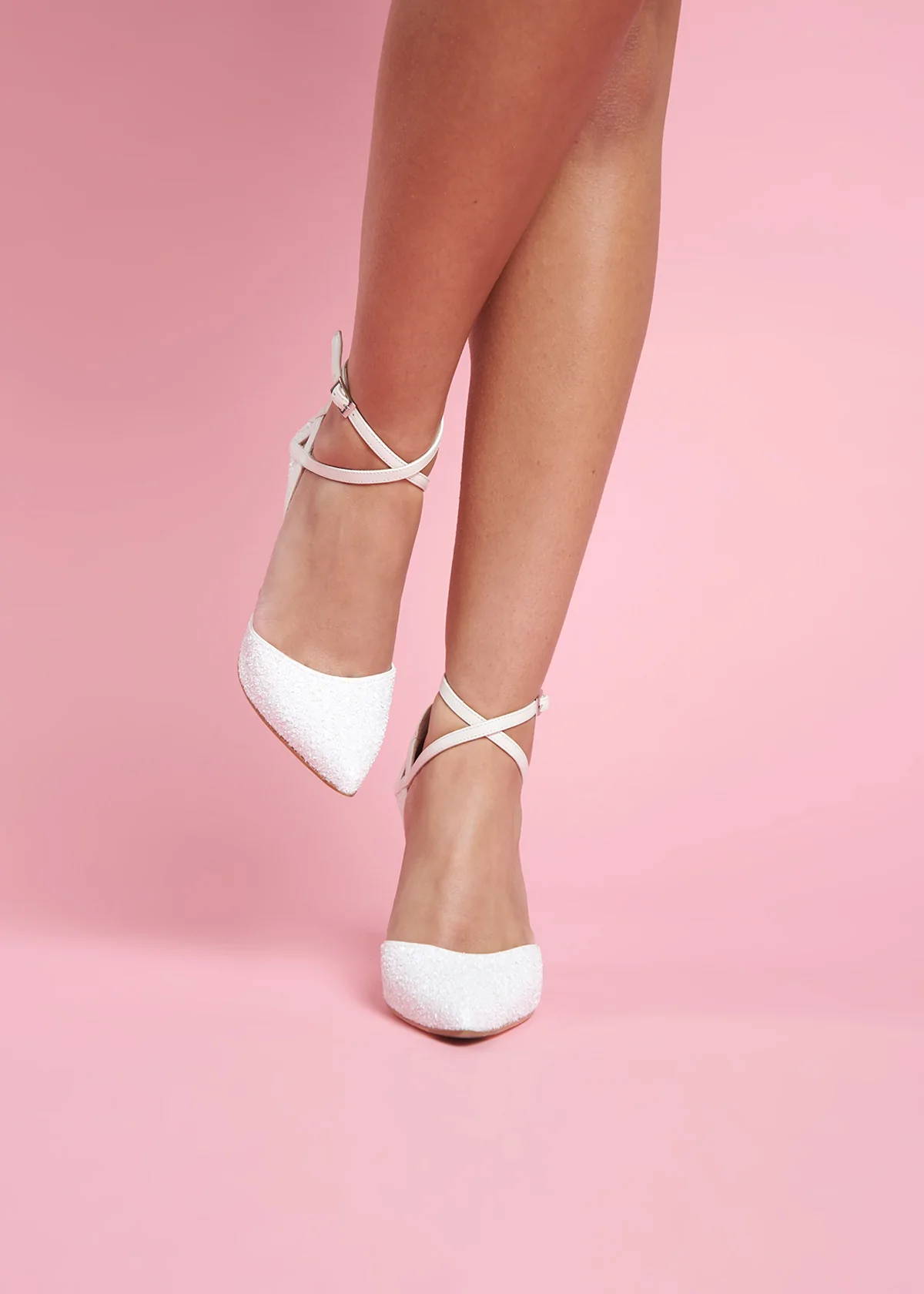 #2 Aruna Seth

For high-voltage glamour, turn to the show-stopping designs of luxury shoe designer, Aruna Seth. Instantly recognisable by the label's signature use of the Farfalla butterfly motif, Aruna Seth is synonymous with opulent materials, meticulous craftsmanship and heart-stopping embellishment. And, for those who want to level-up their bridal sneaker game, Aruna Seth's luxe Jet Sneaker is a game changer. Flaunting not one, but five of the brand's iconic Crystal Farfalla butterflies and crafted in Italy, with the Jet Sneaker you won't have to forgo comfort for style.
Photography credit: Muse Motion Pictures Photography (http:// www.musemotionpictures.com)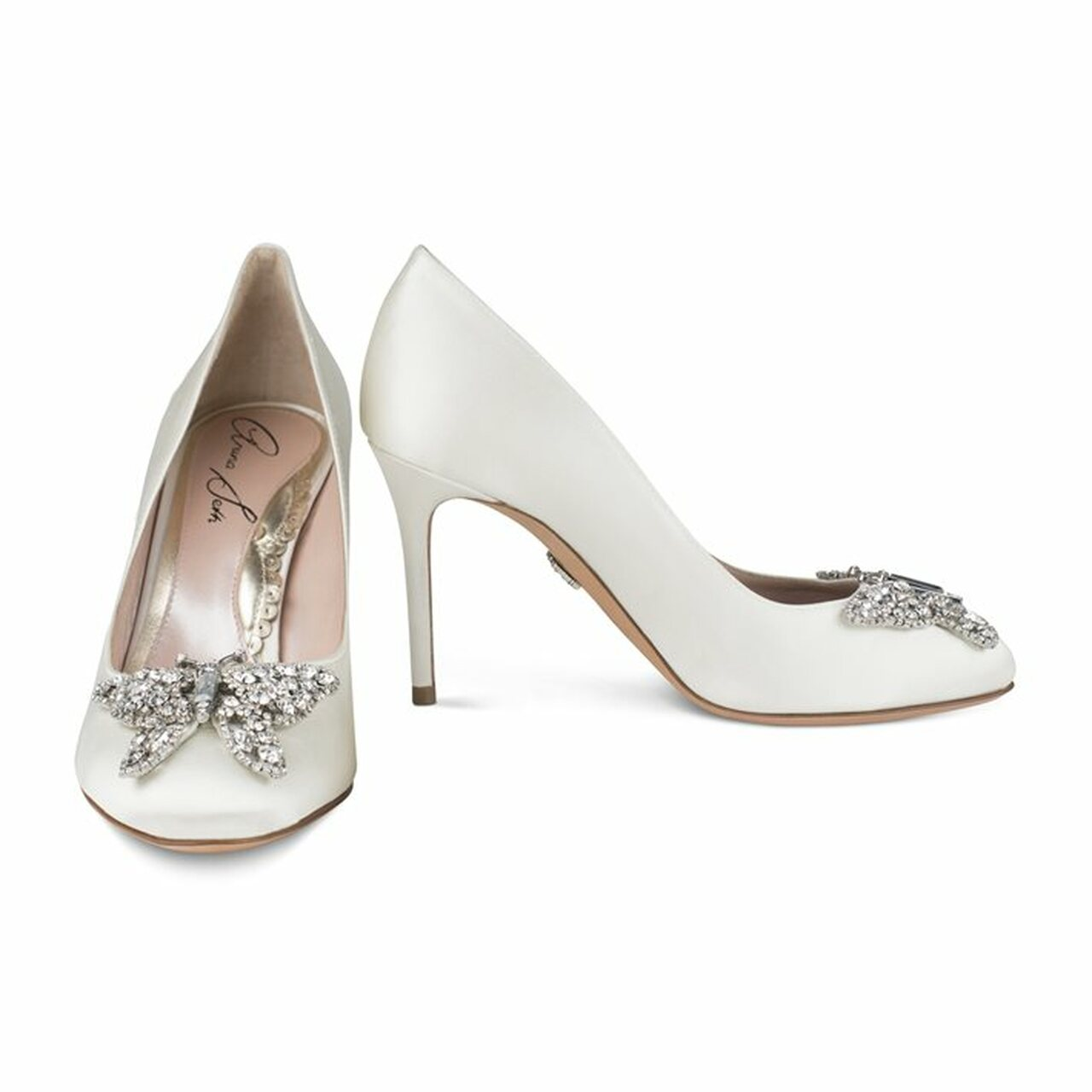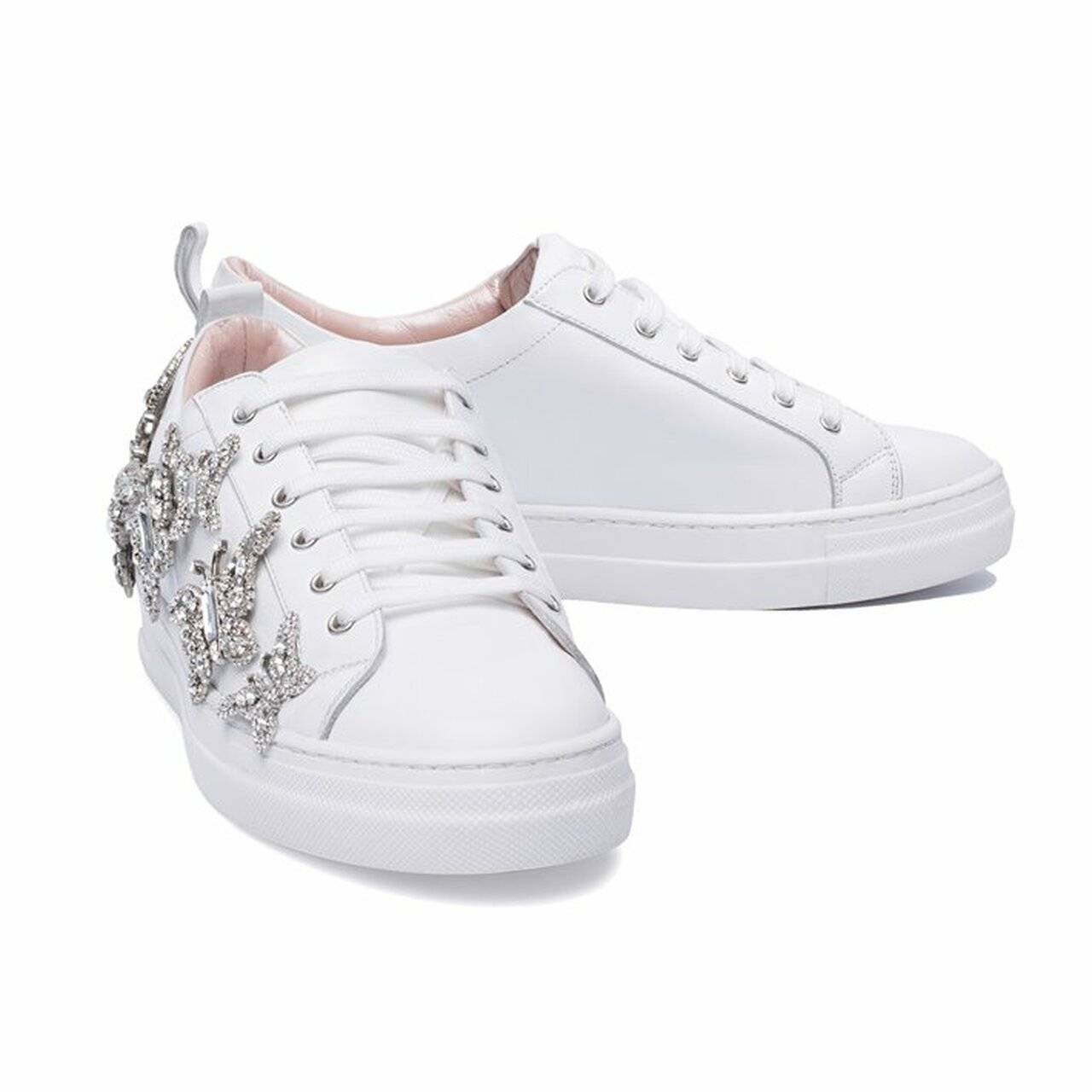 We just can't get enough of Camilla Gabrieli's Sofia pumps (and we bet you can guess why). Meticulously hand-crafted from delicious crepe satin, with an achingly cool, standout faux pearl threaded on their sultry gold stiletto heels, the Sofia pump is sure to cause waves and, especially so, when paired with literally anything from FTLOP. Born on the island of Sardinia, Italian shoe designer Camilla Gabrieli was endlessly inspired when she was little by her Grandmother who would design silk organza gowns for clients heading to fabulous parties. Wonderfully, young Camilla would often utilise her Grandmother's leftover dress fabric to craft footwear designs of her own for her cat, Mustafa.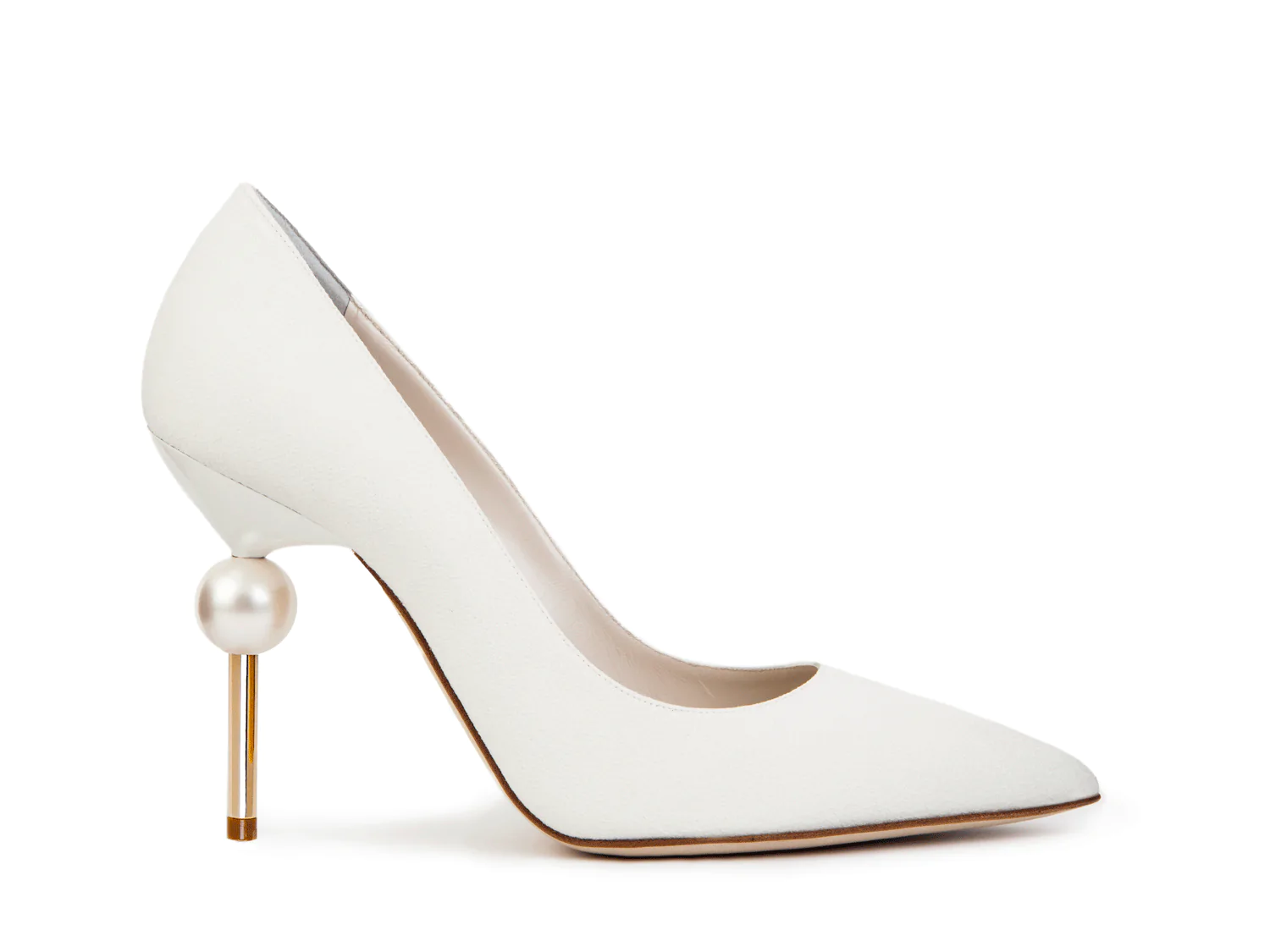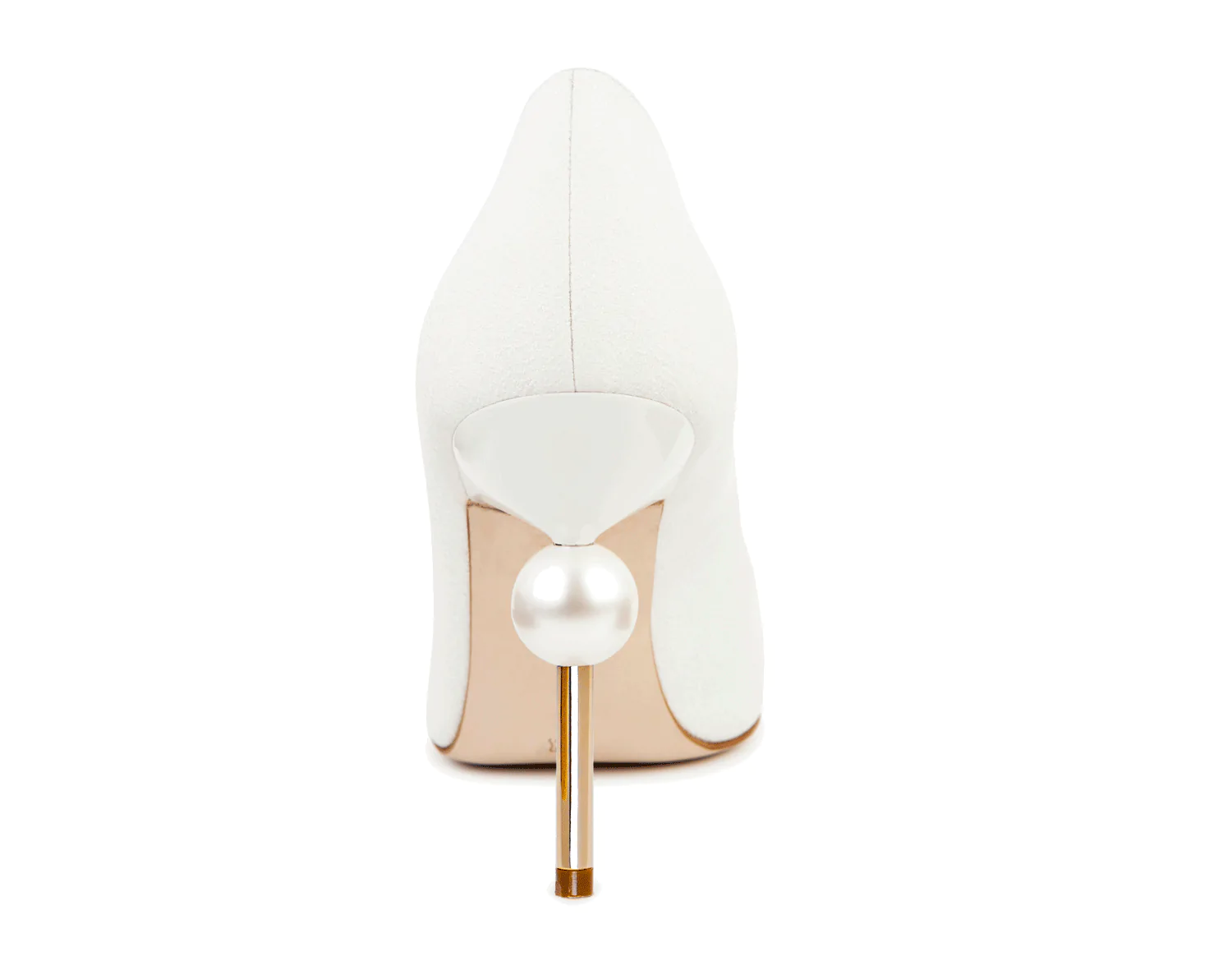 #4 Emmy London
Behold Emmy London's Cinderella Block heels, a must for the magpies amongst you who long for a pair of highly embellished, glittering bridal shoes for the aisle. Showcasing Emmy London's signature Art Deco-inspired embellishment, these meticulously crafted, hand-beaded block heels boast a multitude of eye-catching details, from mirrored glass to glittering crystals and hundreds of bugle beads, all expertly finished with a lacquer trim. And, that block heel? Why, she's perfect for stability down the aisle and beyond.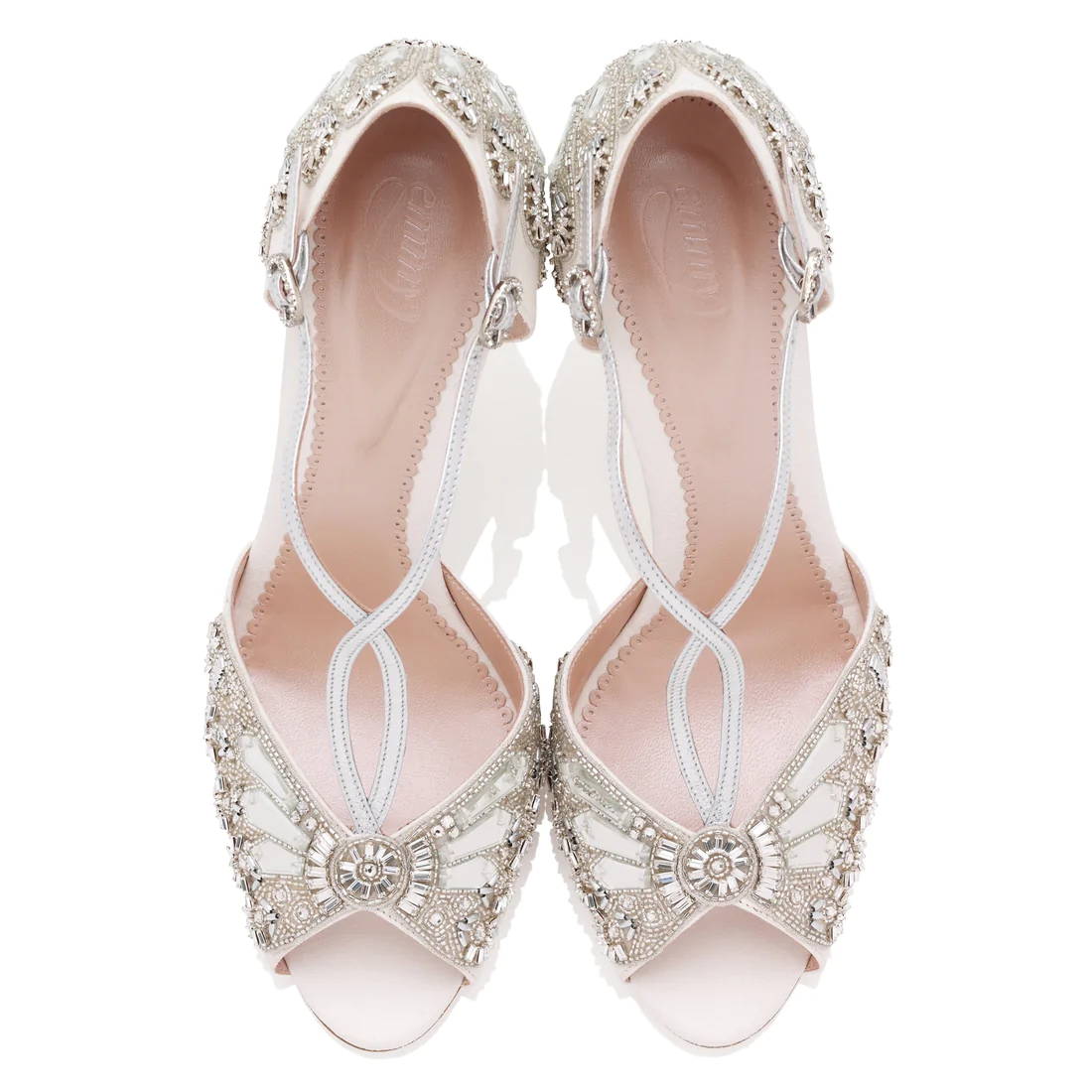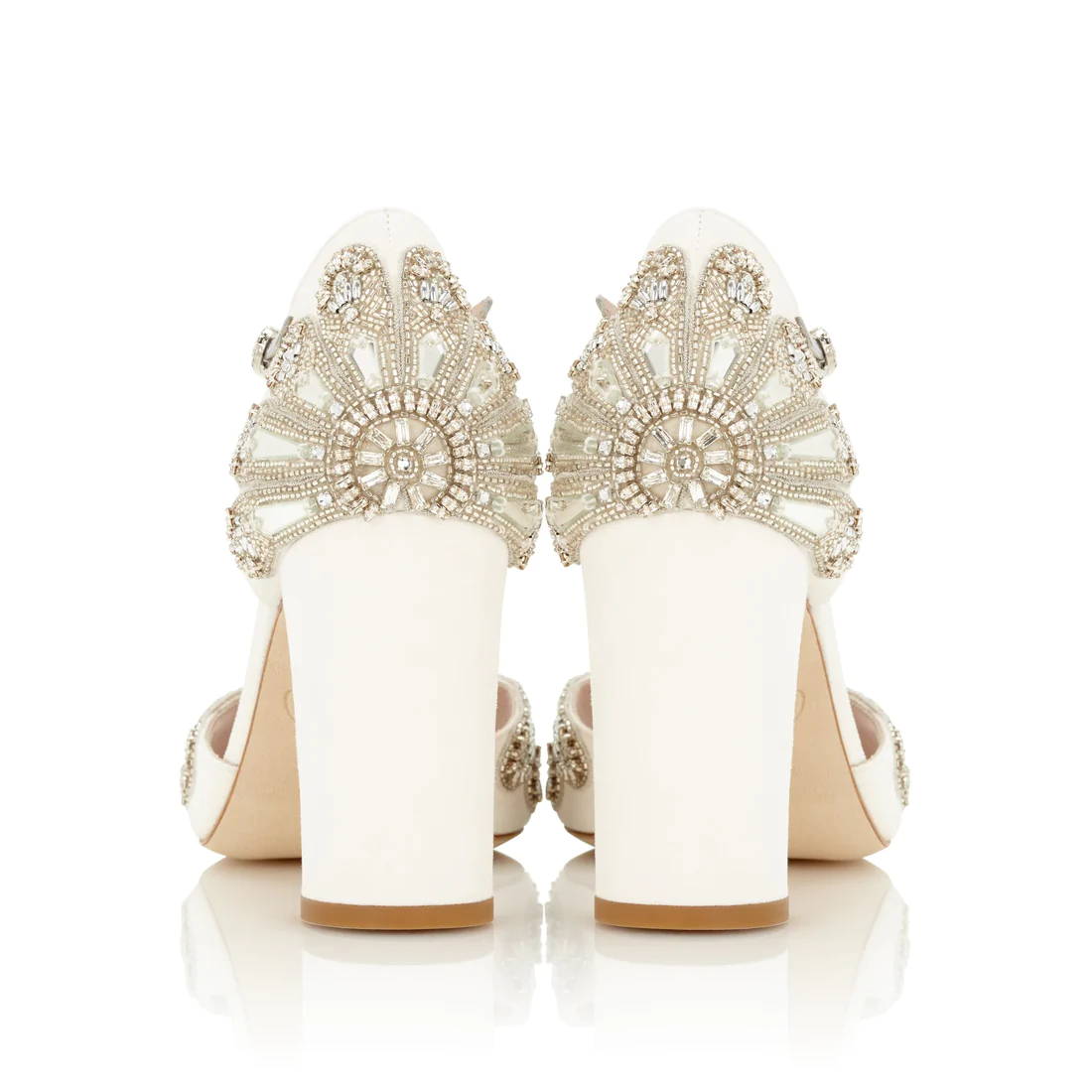 Revered British shoe designer, Diane Hassall's endlessly romantic shoe creations beckon to be worn with sweeping hemlines, never-ending tulle trains and elegantly lace-edged veils. With over 25 years of experience, including periods working alongside the likes of Emma Hope and Jimmy Choo, Diane Hassall's work is quite something to behold. We're particularly smitten with her latest flat, the Autumn Flat Mule, a highly charming - not to mention highly comfortable - creation that'll look just heavenly peeking out beneath the bottom of your gown. Or, for those who prefer something that brings you a little closer to the clouds, Diane's Marry Me Court Shoe will immediately seduce.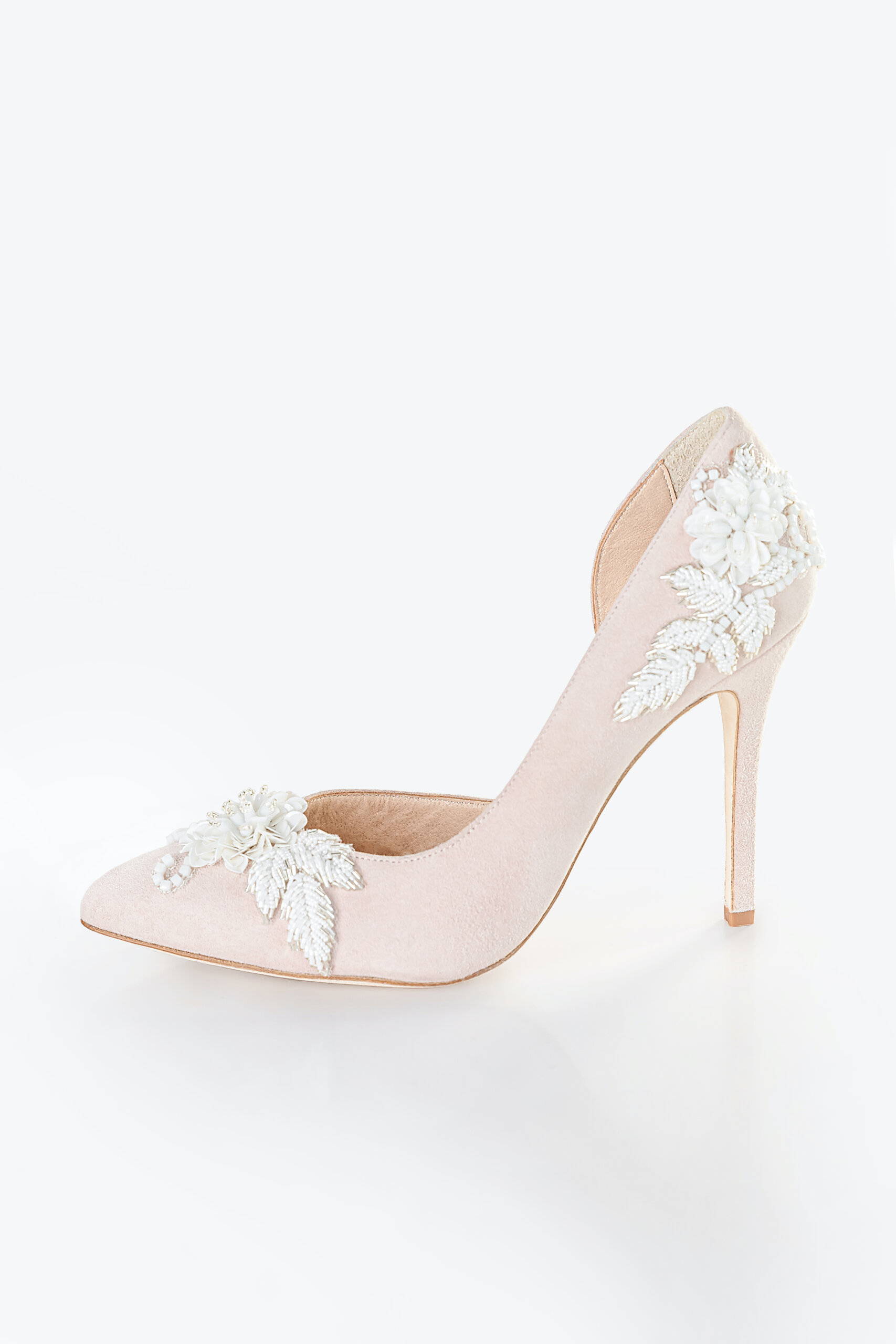 Behind the truly whimsical designs of Harriet Wilde, is the highly-talented shoe designer, Ruth Shaw. Synonymous with craftsmanship, the brand is intent on bringing beautifully designed bridal shoes and wedding accessories to the table, both in the UK and across the globe. With the label's signature flurry of exquisite blossom embellishment decorating their shoes, we're in no doubt you'll probably have already spotted a pair of Harriet Wilde's scrolling the 'gram - and fallen in love. Our current favourites? The Arabella Block heels, made-to-order in Rose Water.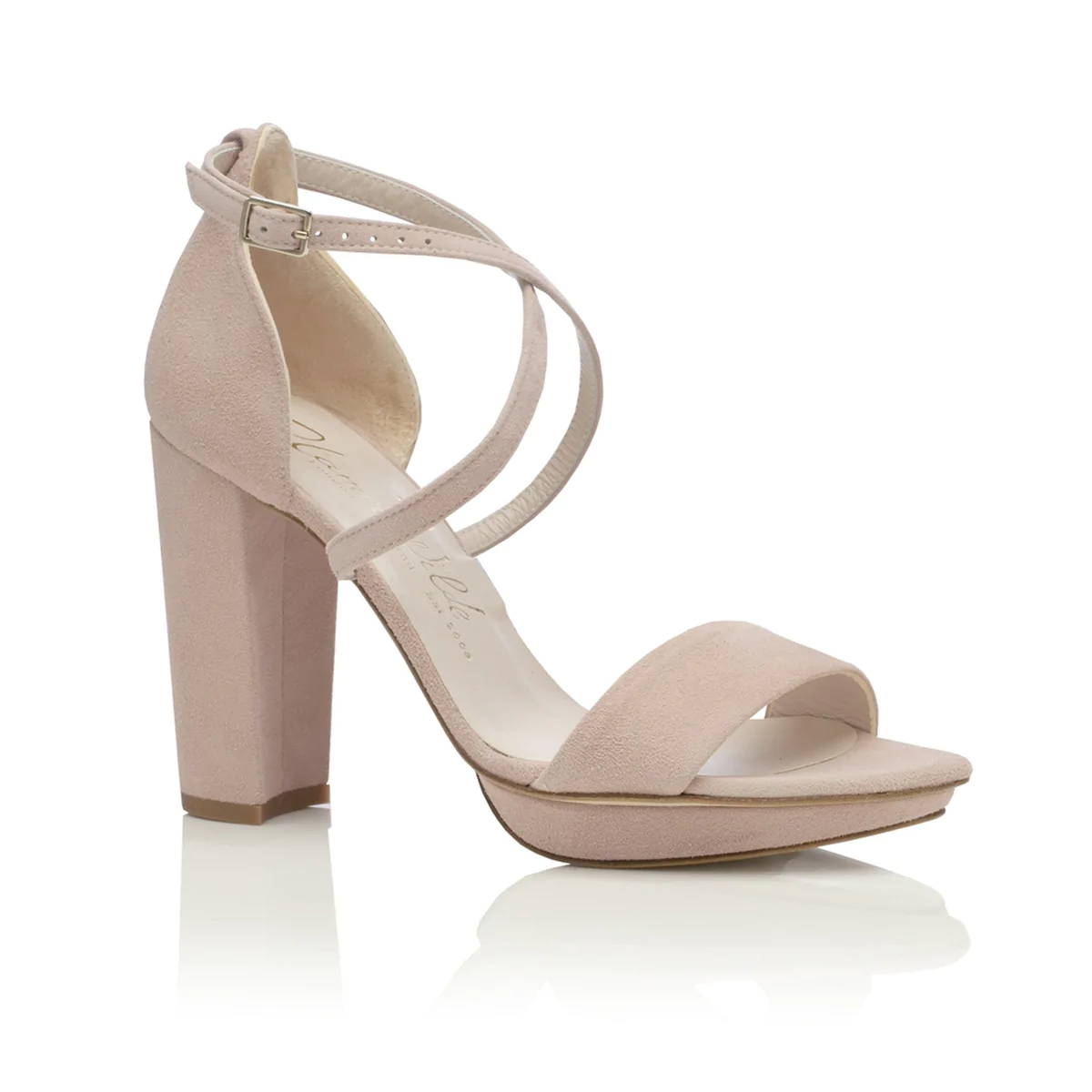 #7 Freya Rose
Award-winning designer, Freya Rose is celebrated across the industry for her timeless, contemporary shoe designs and accessories. Here at FTLOP we, of course, delight in and applaud the designer's stunning use of mother of pearl. This signature material (that's threaded whimsically throughout her collections) breathes romance, and is responsibly sourced in Bali. So, if you're looking to cause a stir as you take to the aisle, we suggest Freya Rose and, more specifically, Freya Rose's Gigi Ivory.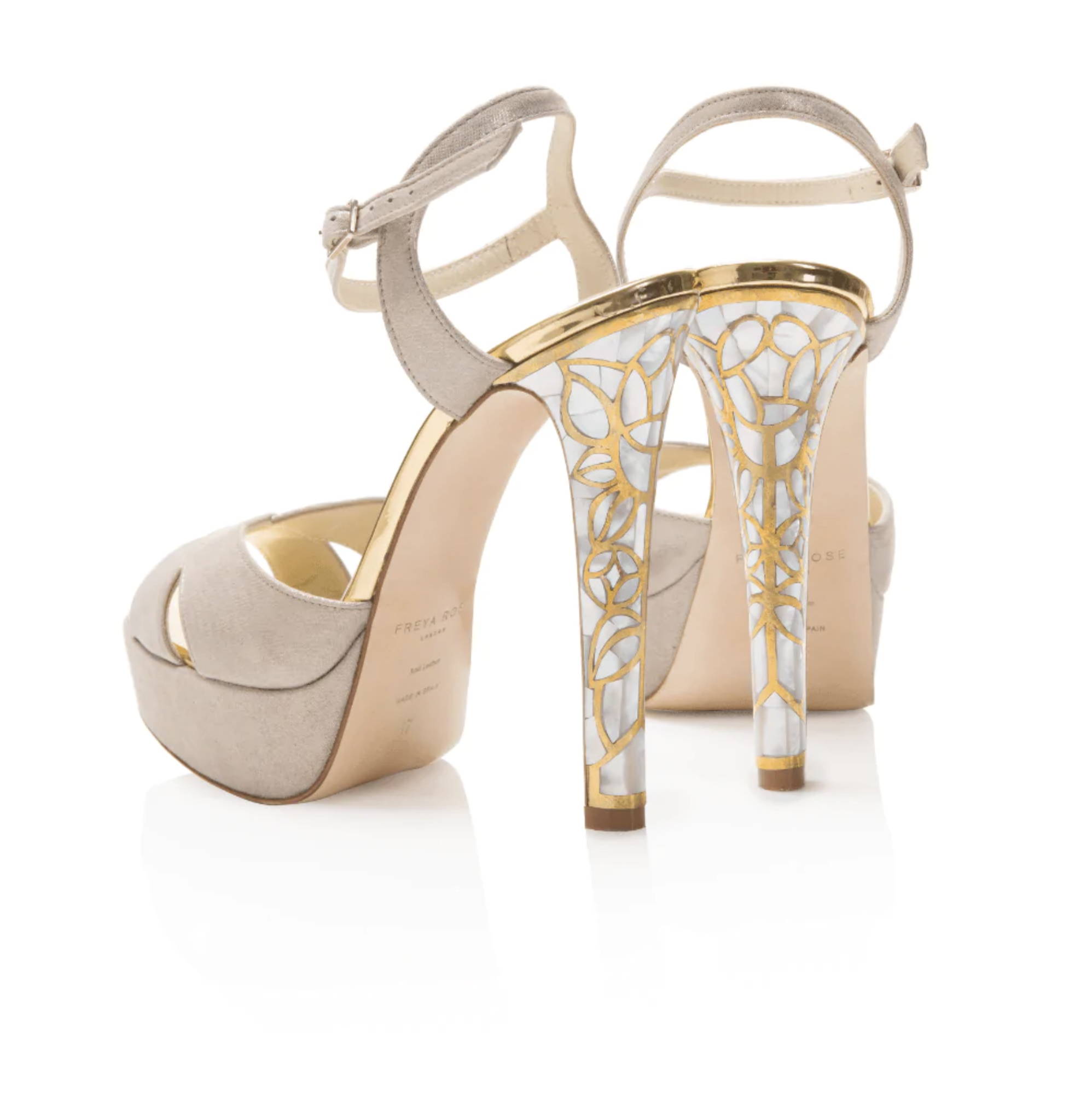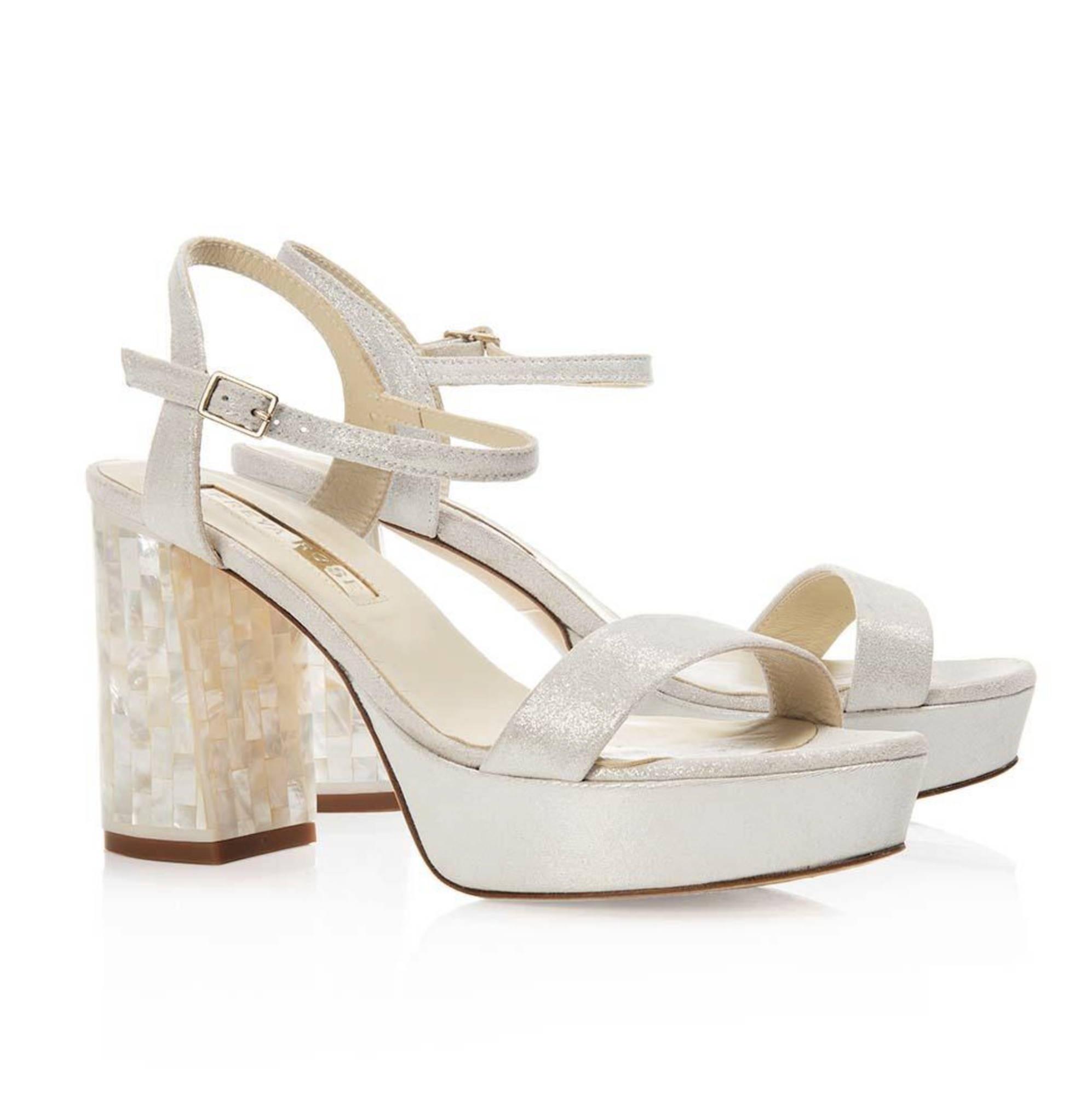 With new arrivals (to an already highly coveted bridal shoe collection - might we add) in the form of the pearl embellished Chiara Sandal(equipped with the beloved 'Wifey For Lifey' foil printed sole) and fairytale-esque Leah, the only problem you'll experience when it comes to Sophia Webster's designs, are which to choose (we wouldn't be surprised if there were often cries from brides of "but I want them alllll…" heard emanating from the designer's flagship store). And, as true pearl-lovers, we can't help but also mention the iconic Natalia Perla Platforms. With a heel adorned in pearls, they're a no-brainer if you're a FTLOP bride.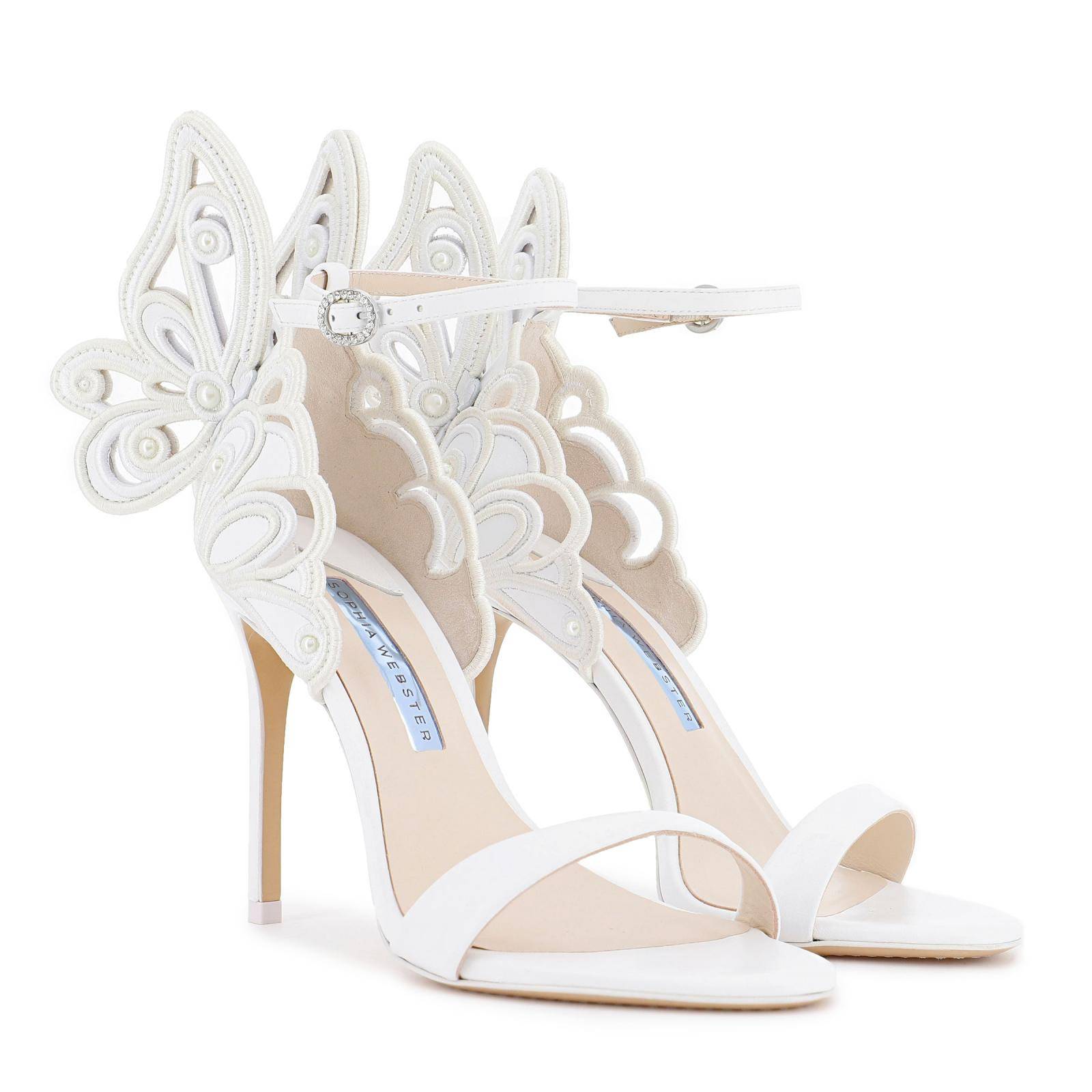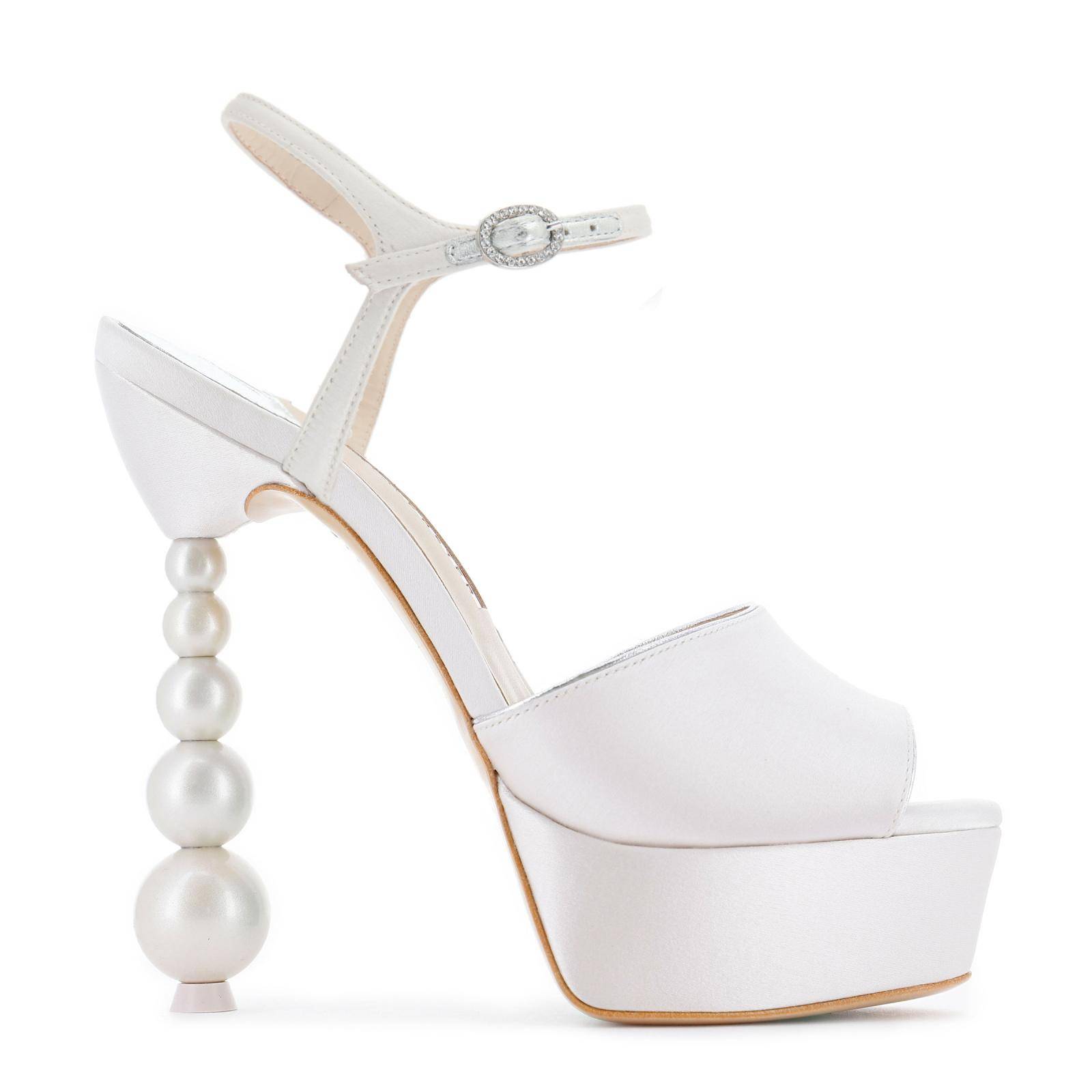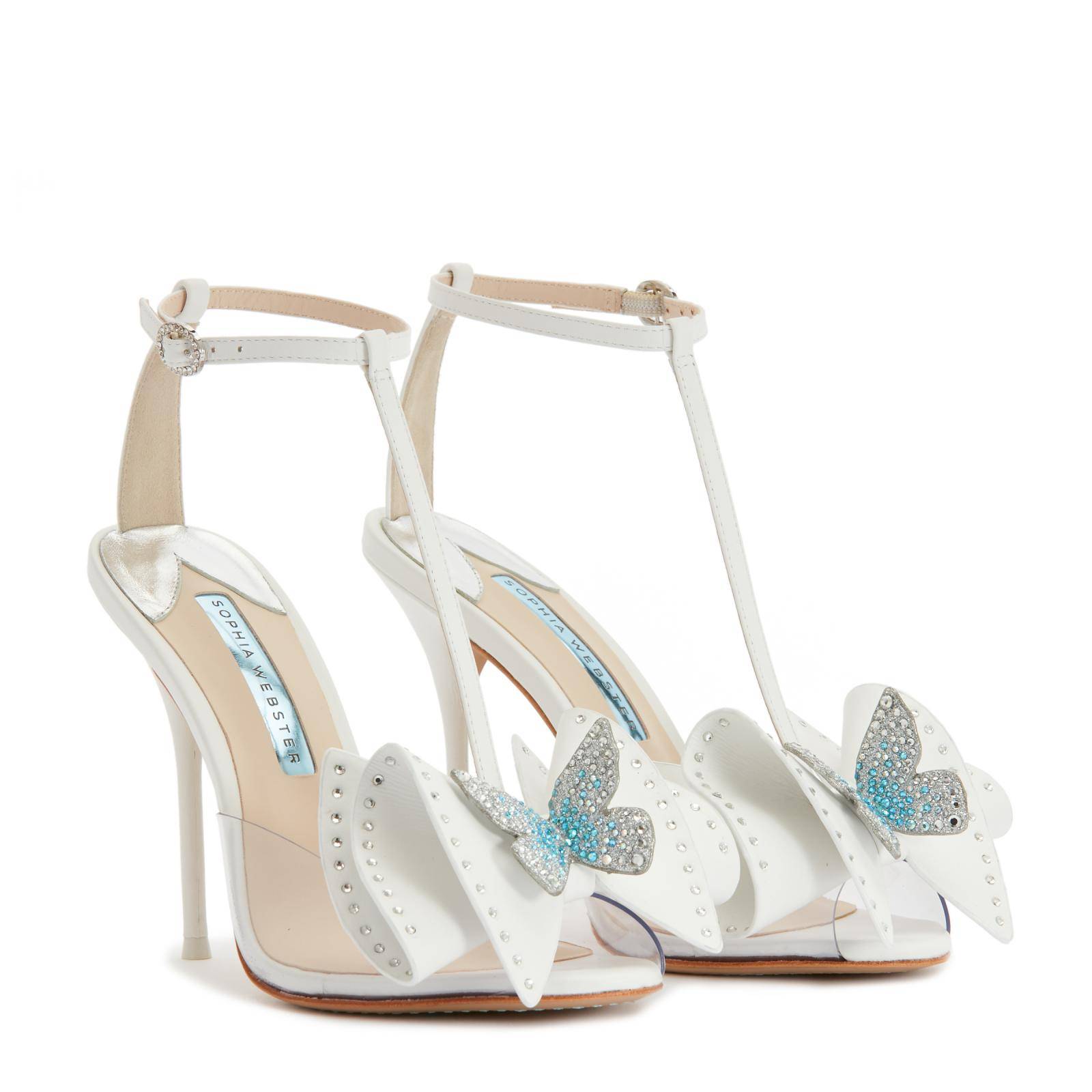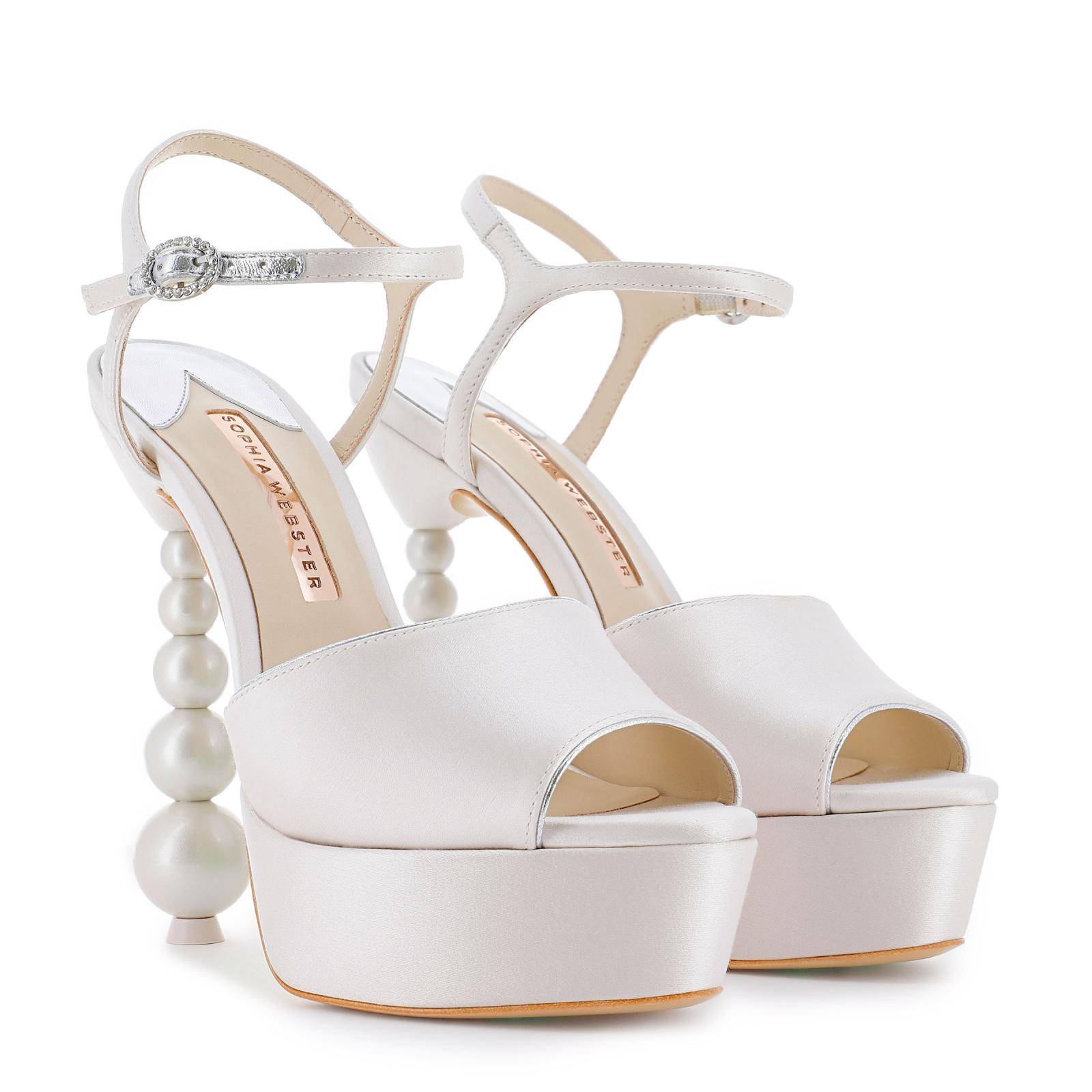 Want more bridal inspiration? Head back to the For The Love Of Pearls blog.

For more pearl-embellished FTLOP magic, click here.