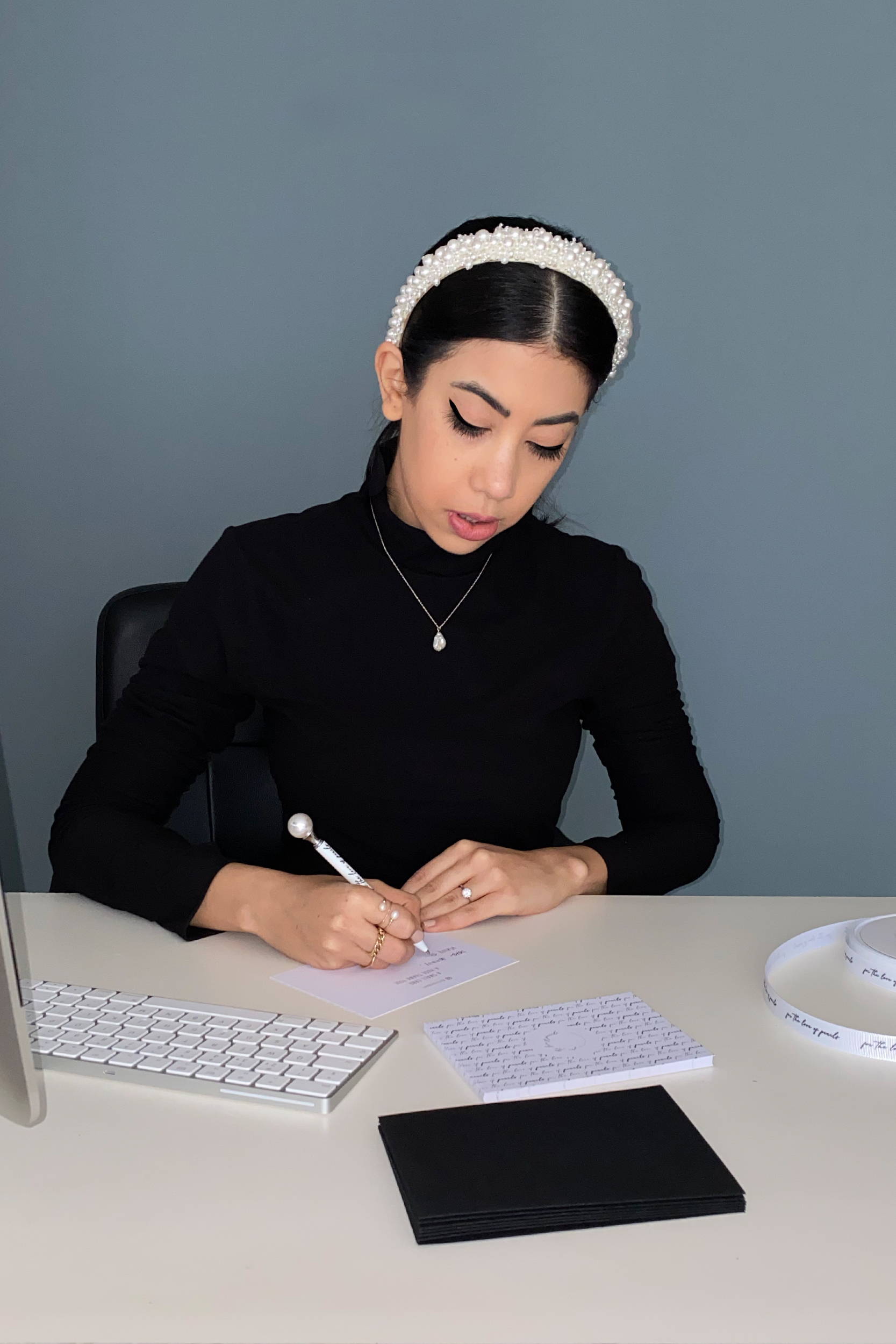 Founded by Sadaf Pourzand, For The Love Of Pearls creates beautifully designed pieces made to be treasured and lived in your wardrobe forever.
After so many precious moments were affected by 2020's events, including Sadaf's own wedding, FTLOP was born to bring back excitement into every bride's journey to being a wife.
For The Love Of Pearls was started with every bride in mind, however it has slowly expanded to every woman in mind. Since its inception, the brand has grown from only carrying bridal jackets to delicately curating everything from comfy sweatshirts to hair accessories and bespoke pieces, designed in a sea of pearls.
With a love for graphic design and bespoke items, Sadaf is able to provide customers with exclusive and embroidered designs to make your pieces completely unique to you and your style.
Hi, I'm Sadaf. ​
Nestled in Hampshire, I create my bespoke, nostalgic and effortlessly classic designs for you.
I'm a qualified architect and have always been creative, with fashion being a constant in my life for decades. Coming from an Iranian family, celebration, style and vibrancy is part of our culture. My mother has been a constant inspiration to me, always immaculately dressed, perfectly styled and pristinely put-together…she never has an off day!
My love for high quality fabrics and opulent details began in 2012. After taking a year out between my undergraduate degree and masters, I was experimenting with my love for design and creativity when I fell in love with events and luxurious details. Since, I have been involved in all my friends' and family's event planning, from designing wedding logos to wedding invitations, seating plans and baby shower stationery.
This love for detail has been channelled into every element of the brand and every piece FTLOP creates. Every element of a For The Love Of Pearls design is bespoke, hand-selected and crafted with care.
Unique pieces for handcrafted moments.