FTLOP x REBECCA FROST PHOTOGRAPHY
"My images boldly and soulfully create visual stories of tenderness, infatuation and courage."
Rebecca Frost Photography
Sometimes, when two like minded creatives meet, magic can be made. Which is just what happened when For The Love Of Pearls teamed up with inspirational boudoir photographer, Rebecca Frost Photography (AKA 'The Boudoir Lady').Together, with some of our most iconic, signature pearl pieces in tow and Rebecca's talented team of handpicked creatives, a truly enchanting series of lovingly captured boudoir images arose - that will (we're in no doubt) endlessly inspire the modern bride. Drenched in light, it's almost as if you can feel the pure joy and confidence of our bride emanating from the frames. She moves, free and confident, completely at ease with herself and her body, celebrating her journey;her transition from bride-to-be to wife in one dreamlike frame after the other.FTLOP caught up with Rebecca of Rebecca Frost Photography to discover more about her work and the plethora of boudoir sessions she offers, not to mention why brides should definitely be adding the experience to their to-do list prewedding…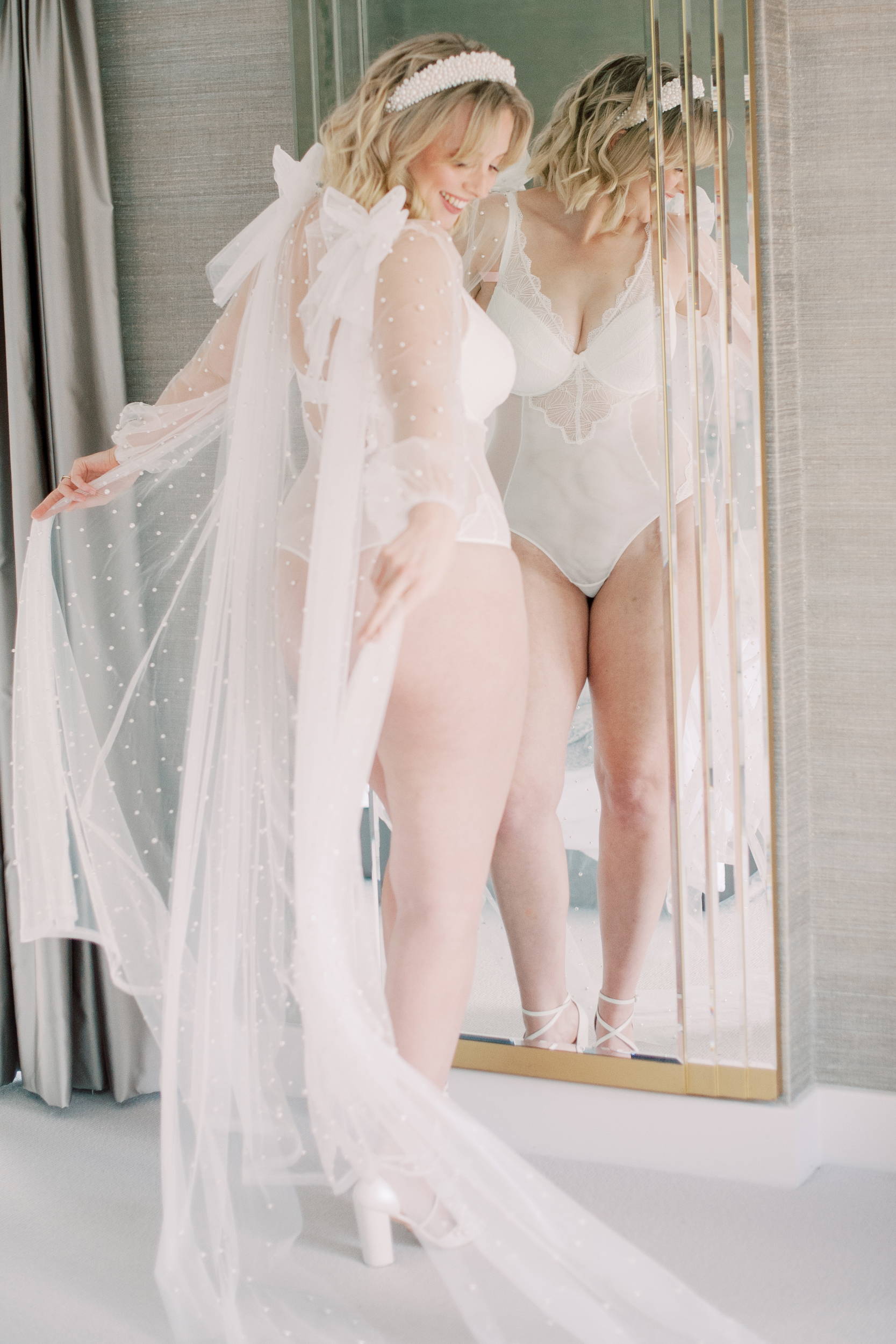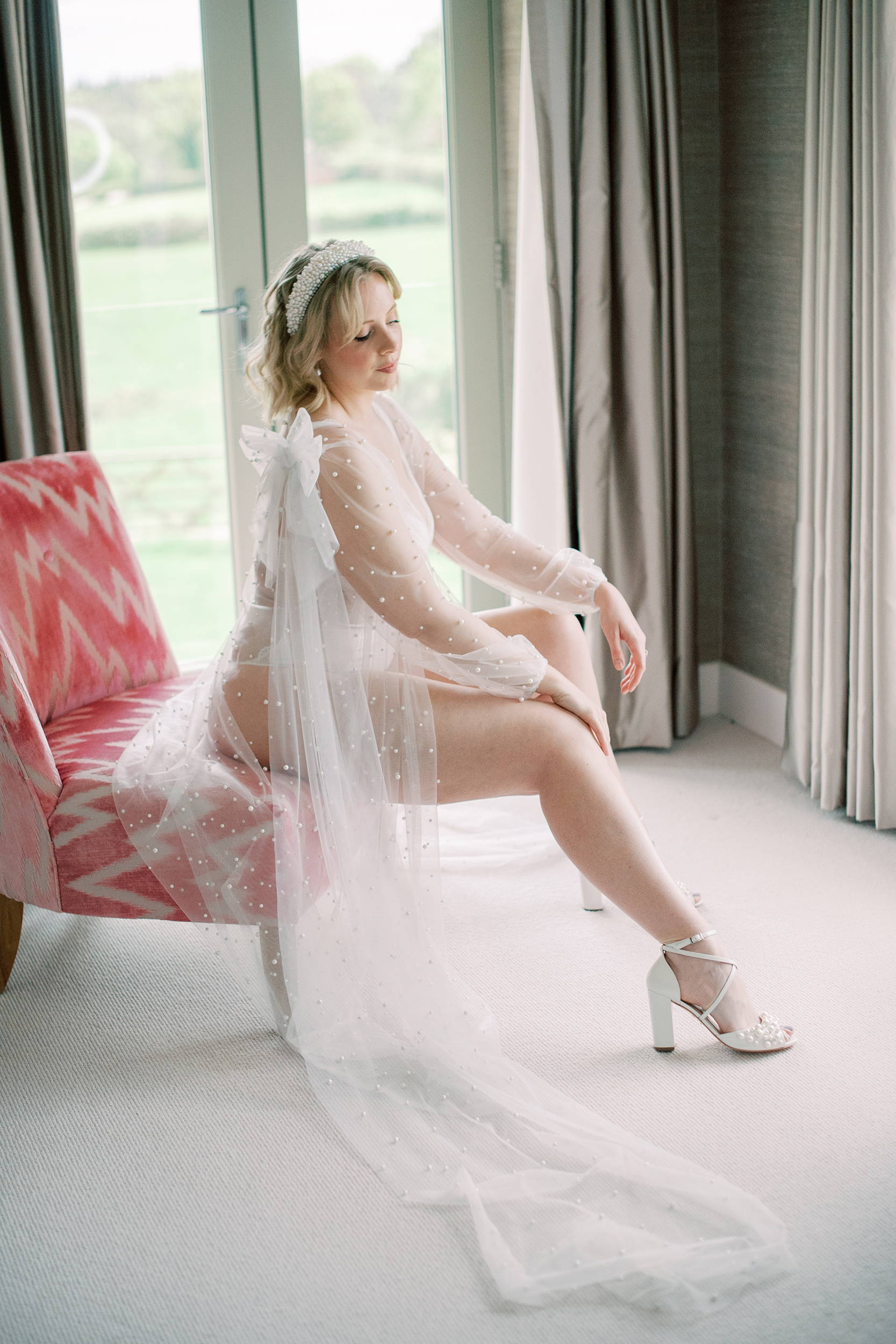 #1 Tell us more about you. Where does your love for photography stem from?
"My name is Rebecca, Becky, Bex, B, The Boudoir Lady… and of course,wifey and mumma. All of these characters and personality extensions are vital tome, all of them allow me to be a little something… extra, calm, directional, sassy,creative, cheerleading, positive, humble, empowering and, of course, a little more boundary-breaking. Proudly, and with purpose and passion, I call myself a life,motherhood, beauty and boudoir photographer. Specialising in creating luxurious and exquisite imagery that adores you, comforts you and liberates you (I will comeback to that bit later). I work for women, fiancées, wives and mothers, as well as their babies. My images boldly and soulfully create visual stories of tenderness,infatuation and courage.When I was at college I realised I had been given three precious gifts that have moulded my career and business. The gifts of creativity, curation and visualisation have, over fourteen years, fused together to create Rebecca Frost Photography.Alongside my values of empathy, education, compassion and liberation, I joyfully and wholeheartedly provide expansive stylish shoots for clients all over the UK and Europe.I now say (with a lot of personal pride) I work with clients to help them understand how their body image, thoughts, biases and beliefs impact their lives and empower them to move forward at some of the most empowering, breathtaking and sensational times of their lives. Those being Love, Engagement, Marriage,Motherhood, Menopause and Rebirth - I am here for every woman, at any age and at all stages of their life."
#2 Where did the idea spring from for offering a boudoir shoot service?
"In 2013, I started my boudoir career with the aim of challenging, changing and improving the images I saw on British boudoir feeds and forums. I decided that by photographing with the aim of showcasing women without the masculine sleaze factor applied, and with a fine art ethereal elegance and mindful beauty style, I could change the perception of what boudoir is, what it does and how it can be used. Overnight I realised we didn't just need a new set of poses, settings and scripts, we needed a new set of rules, beliefs and values.Therefore, for me, RFP is about rewriting your most personal and transformative body moment stories with exceptional imagery, relaxation, sensual empowerment and faith in your photographer."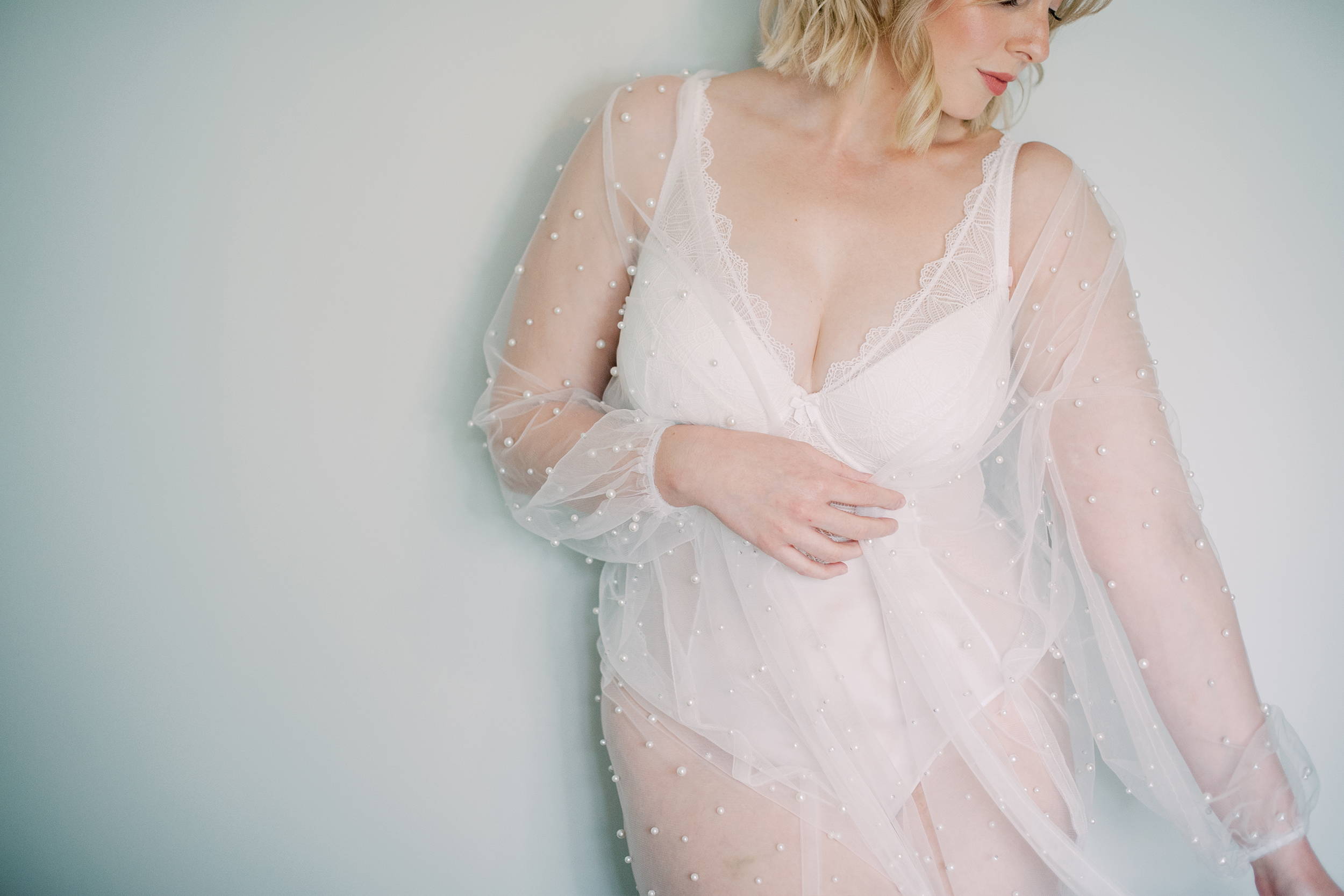 #3 Talk us through the beauty of a boudoir shoot. Why should brides consider one?
"Humour me for a second. 1990 has a lot to answer for and celebrate, it was they ear I was born and The Backstreet Boys existed. They once sang "I don't care who you are, where you're from, what you did, as long as you love me." Those lyrics struck a chord with me as I went through the process of building RFP. They're present a romantic notion of unconditional love and it is something many people grow up dreaming of finding or have found when they embark on their marital planning journey.
• You love someone and nothing else matters.
• You love without any strings attached, especially not the ones you bind yourself with.
• You don't base love on what someone does for you or what you want inreturn.
The question "so why don't we want that for ourselves" arose (deep from some TBB lyrics I know). What brides think about themselves, how they mentally support themselves, how their inner dialogues support them and how they value themselves play a major role in wedding journey well-being and joy. With RFP Iwork to encourage brides to think of a boudoir session as a way of them showing themselves unconditional love. Not just a fleeting minuscule amount of self-care insexy pants with a pretty veil, but as the thought-provoking, love language-altering and empowering monumental experience it really is."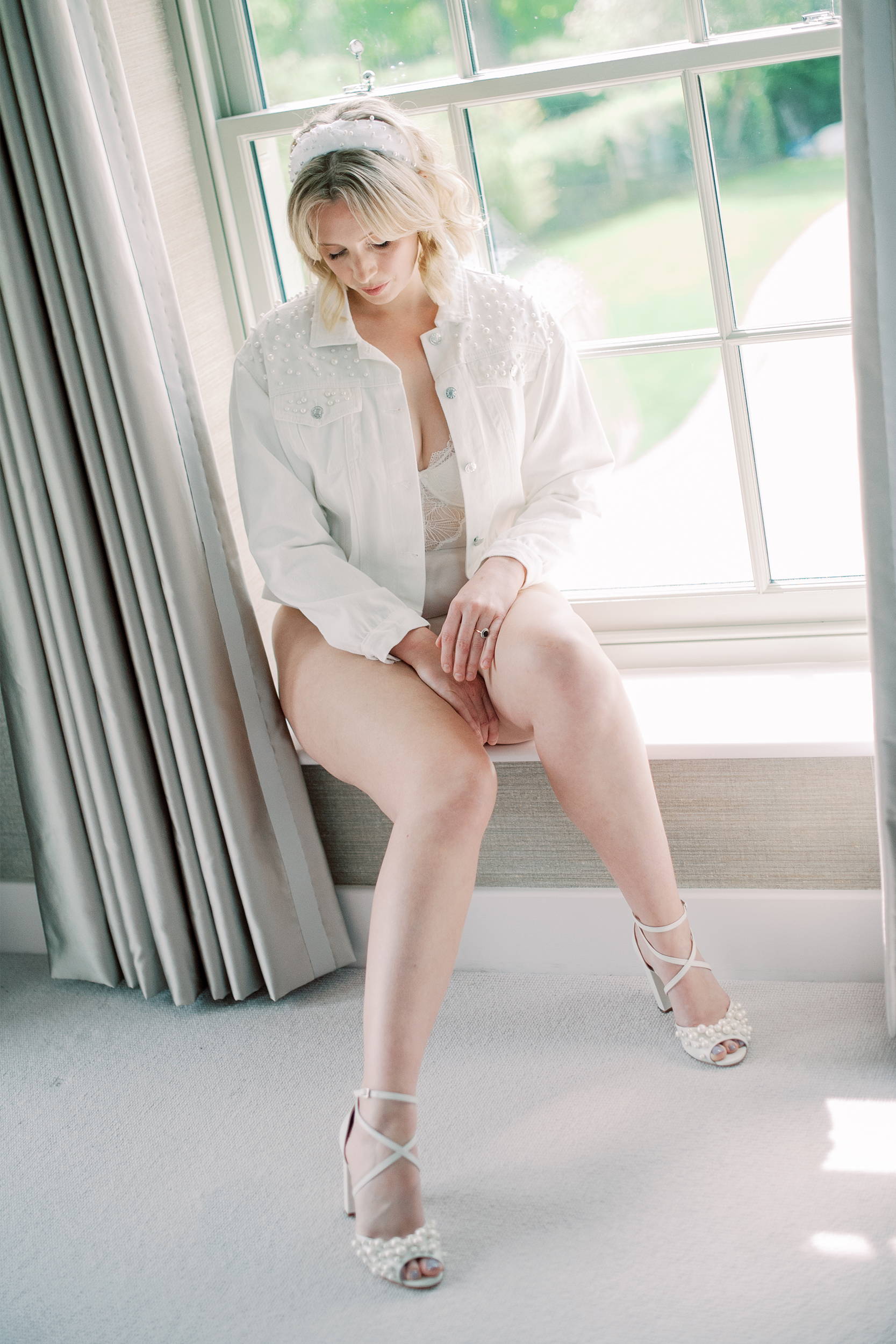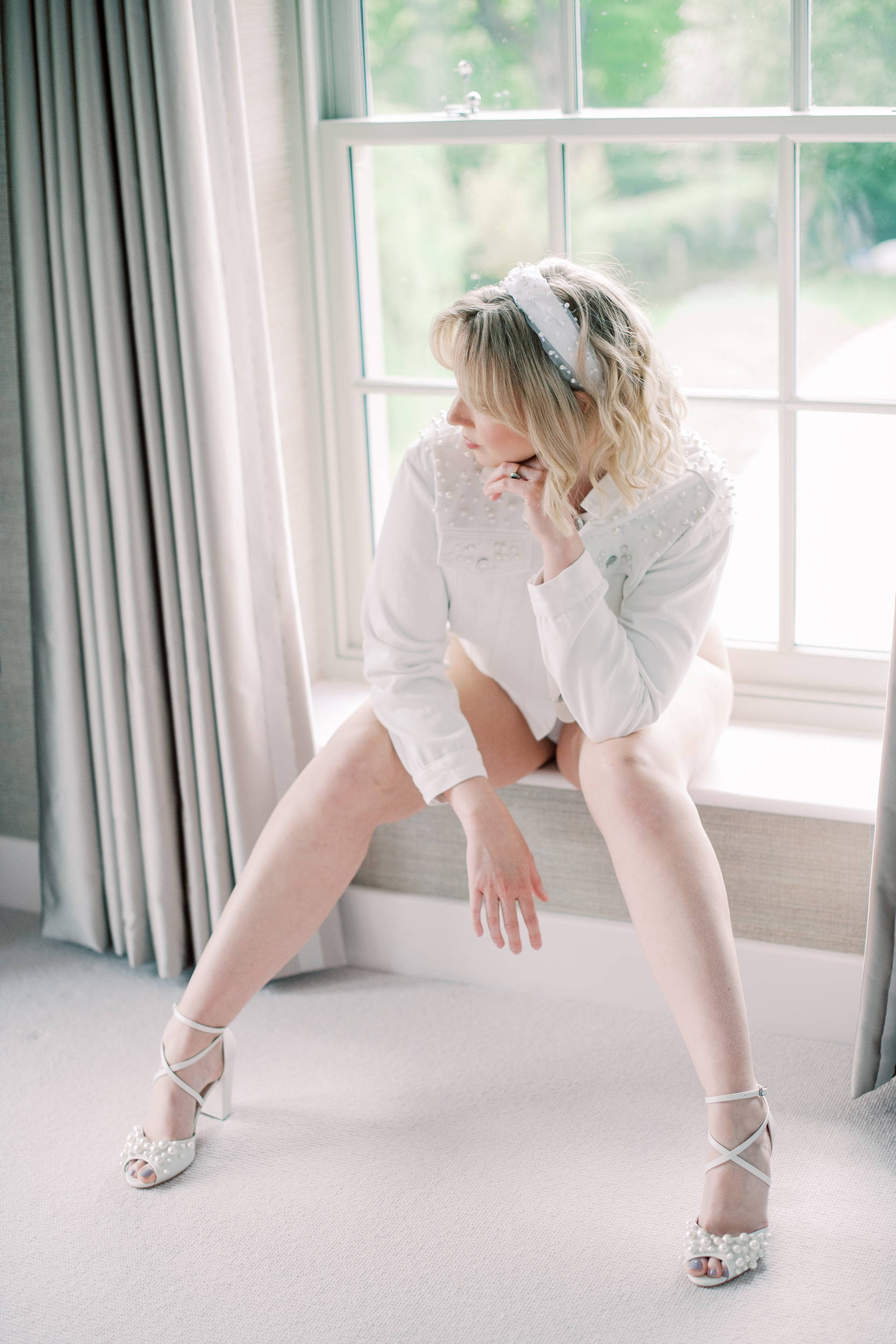 #4 How are these portrait experiences different from boudoir shoots with other photographers? Is it just about feeling beautiful or is there more to it?
"Because I work for you during some of the most transformational, exciting,breathtaking and sensational times of your life, if it's ok, I would like to start by saying the following:I am probably the photographer for you if you are:
• Looking for an expansive and uplifting photography experience
• Looking to work with someone who has years of experience in body image,mindset, and photography
• Desiring a safe space to explore what sensuality and beauty really looks like for you
• Looking for an extraordinary photographic experience that will document your allure and exquisiteness as you are right now as well as provide you with legacy images
• Curious to challenge your mindset around your body, allowing you to gain anew perspective and an improved inner dialogue
Each session(s) is created for you and are more like mind-pleasing, bodyacceptance portrait sessions come classes - they are two things, always expansive and always up-lifting. Each session is designed to help you see and process the beauty of your bridal persona, the exciting process you are going through and your bridal day beauty (both inside and out)."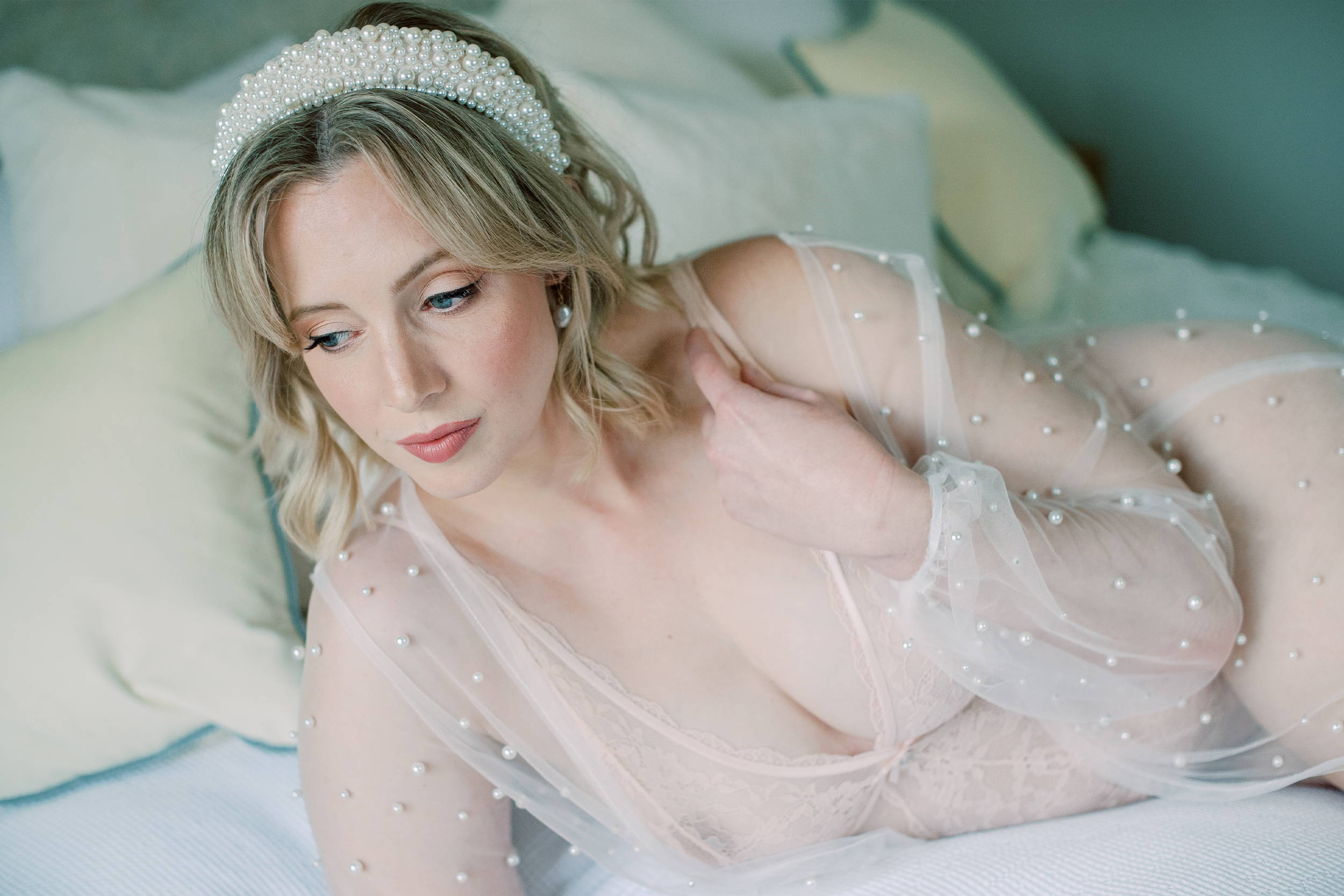 #5 Talk us through how a boudoir experience works?
"I approach my boudoir with a three step process:
No.1 Consult - time to ask your questions, talk through your vision and understand what a magical and life-changing experience this will be.
No.2 Shoot - every detail is thoughtfully planned before your session, as this is an experience like no other, one you will never forget.
No.3 Deliver - your breathtaking images will be lovingly designed and presented to you.
We will work together to ensure you go home with product perfection,deliriously happy and ever so proud of yourself. I purposefully have a variety of boudoir sessions available, including Mini, Classic,Destination and VIP, an approach that allows my brides to decide the perfect shoot level for them - without fuss, without excess, and without distraction. And, as an all-female business, our meticulously selected expert hair and makeup stylists are warm and inviting with a plethora of experience and a shared love of boudoir beauty. You are in very safe and very inspirational hands."

#6 What shifts are created with a boudoir shoot?
"With every click of my camera button, I am aware I can literally shift: mindset,perception, body image language settings, confidence and verbal toxic conditioning. This is what makes this such a liberating and powerful experience.Did you know a huge part of why we dislike our body image so much is because of conditioning to feel there is always someone out there who looks more beautiful,who has the silhouette you don't, the skin you don't have, the hair you want, the long legs, the lithe physique… I challenge you to ask yourself "Why do they matter to you right now?"By showing up for ourselves as ourselves during an experience like this we challenge the status quo and cancel out the conditioning limiting us in our deeply personal and monumental moments. By creating experiences that invite our precious people to see us in ALL our raw glory, instead of pushing them away with our confining negative self-talk we connect on an extraordinary level for the rest of our lives together. By embracing a powerful and vibrant personal love language that heals, emboldens and nurtures we prepare for a life that is more fulfilling,personally respectful and gorgeously liberating."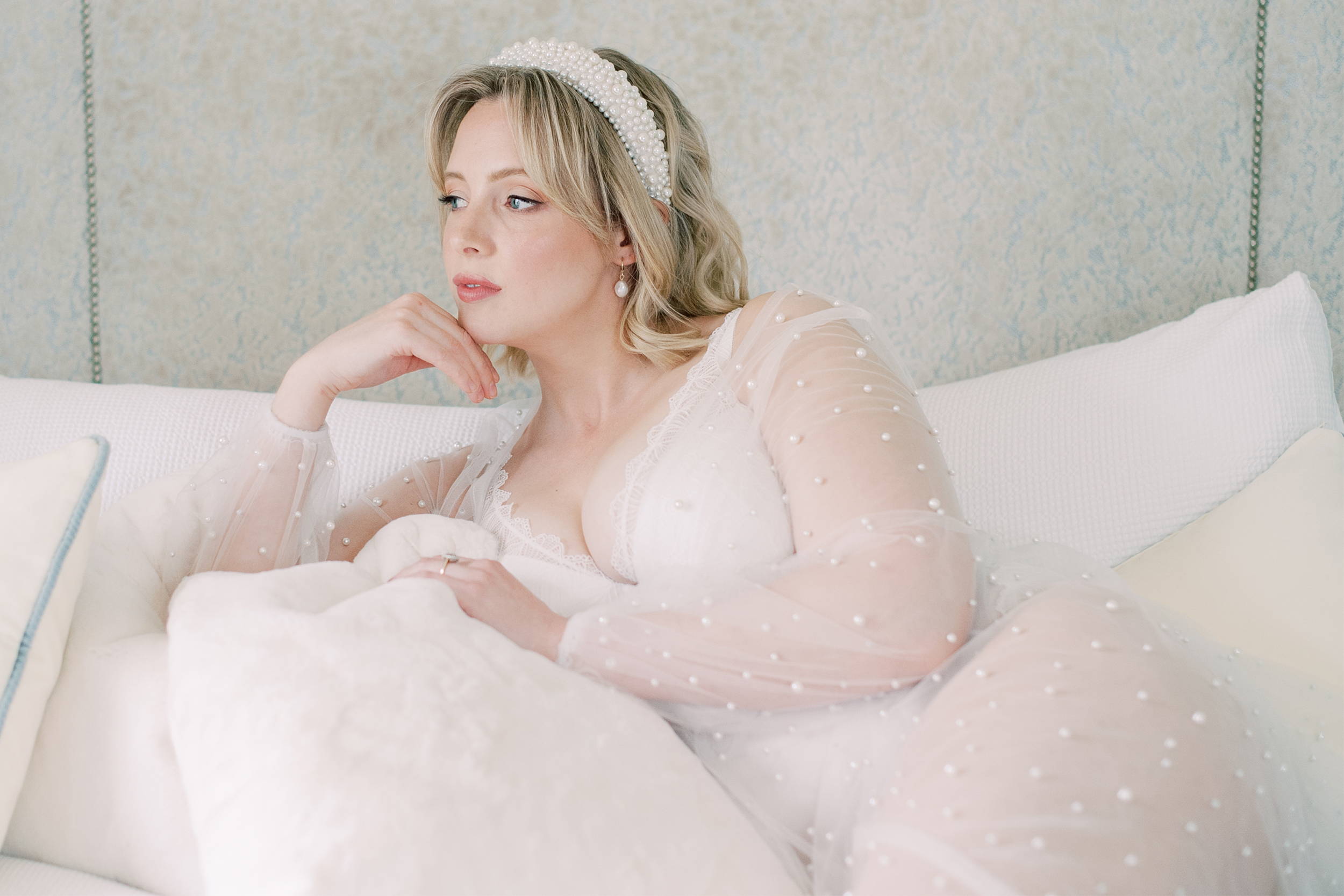 #7 Talk us through the dreamy images you've created with For The Love Of Pearls in the boudoir editorial…
"I adored curating this editorial shoot. I'd wanted to work with For The Love Of Pearls for some time and after talking with Sadaf knew right away the look we wanted to go for. Ultimately we wanted to create something inspirational for women, something to connect with those souls and, perhaps introduce brides to be to the boudoir experience. An experience full of grace, refinement and prestige.Obviously, I knew we had the perfect wardrobe (that pearl robe, in particular, I am just in LOVE with!)We used my exclusive boudoir venue in the New Forest which is used for all my classic boudoir sessions and it was perfect, there are so many options there and it's in the most breathtaking surroundings."

#8 When it came to the featured For The Love Of Pearls pieces, why did thesework so well? Which was your favourite to shoot?
"For The Love Of Pearls feels like the perfect addition to any bridal boudoir wardrobe, I adore everything and my clients do too. I'm always so impressed with the quality, when you wear a FTLOP piece it feels luxurious, and when you feel exquisite it makes such a huge difference to your mindset, and subsequently the outcome of your beautiful images. The Lia Cover Up, has to be my favourite,it photographs so beautifully, and can be paired with so much, or nothing at all.Not to mention those shoulder veils which added the perfect amount of drama to the images."
#9 Why should brides think about wearing For The Love Of Pearls in their boudoir shoot?
"As well as being so incredibly beautiful, they are also so versatile - from your boudoir session, to wedding morning, honeymoon and beyond. I've spent so much time researching the best places to shop for your boudoir wardrobe and there are very few places that have as much to offer as For The Love Of Pearls. I want to get away from the word "boudoir" meaning slinky, uncomfortable, crass underwear. Your boudoir wardrobe should be divine, it should leave you feeling every inch the beautiful bride to be that you are. It should be something you want to wear again and again and evoke feelings of pure joy when you do. FTLOP offer sall this, I just know you will love them as much as I do."

#10 If you had to choose something off the For The Love Of Pearls website,what would it be? What do you personally love?
"In case you haven't noticed yet I adore the pearl cover-up! If I could, I'd loungearound in that all day long. I'm also a big fan of the pearl headbands, they add that little something extra and suit pretty much anyone and any outfit. I also wish those embroidered jackets had existed when I got married, what an amazing keeps aketo have from your big day!"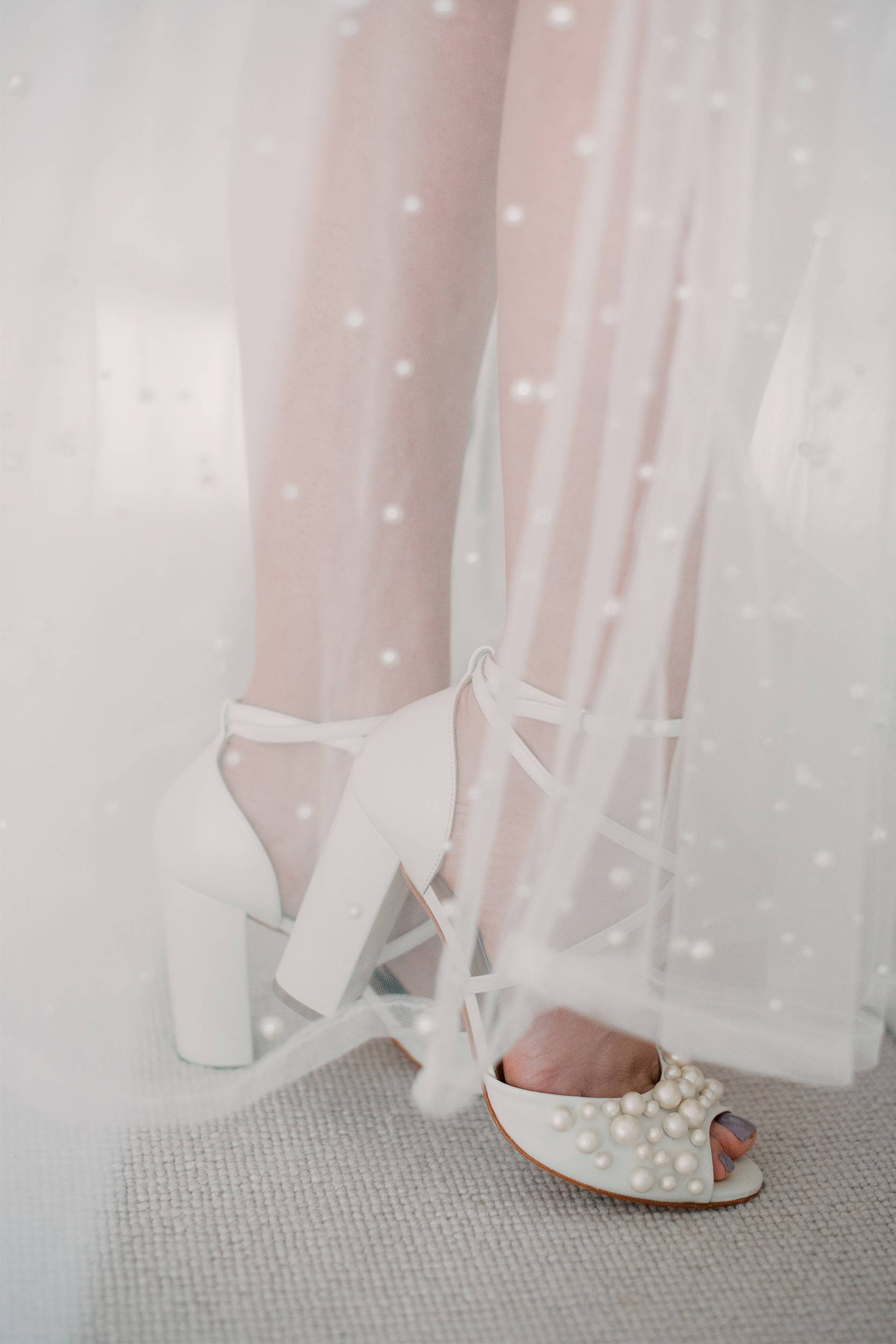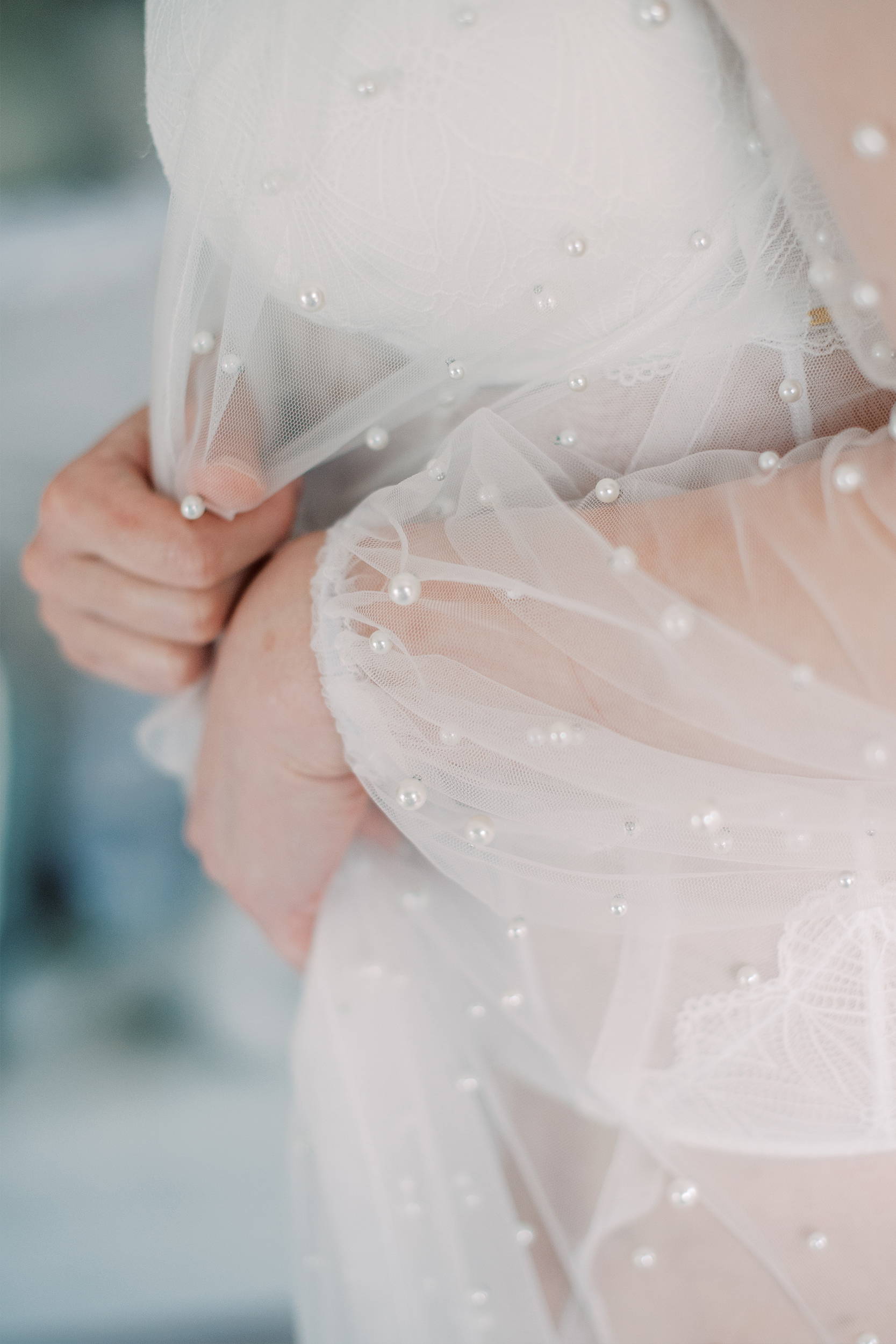 #11 Your vision for the future of your business and the boudoir side of things?
"For my overall growth as a female photographer, as a creative entrepreneur, as a wife, and of course as a mother, I want to continue to do work that is fulfilling and uplifting for other women as well as myself. I will continue to develop and learn in away that is selfless and can serve my clients.Right now that looks like more workshops (at home and abroad), more self-care sessions, more groundwork, self-work and research, and more connectivity offline.Yes, offline! I take great creative sustenance from magazines, books, and seeing people in new places. I learn about space and style by visiting stately homes,gardens and venues.I work with women during their most empowering, breathtaking and sensational times of life. Those being Love, Engagement, Marriage, Motherhood, Menopause and Rebirth - I am here for every woman, at any age and at all stages of life. So, if I could wake up tomorrow with 50 amazing, strong, resilient women having heard this message ready to accept their time to celebrate themselves and book a shoot with me to honour themselves, I would be, gloriously, gloriously happy and grateful."

#12 Who's photography work inspires you?
"I find inspiration from everywhere, from the women I work with everyday, to the women who walk through my door ready for this experience. In terms of photographers there are so many, but Jen Huang Bogans work is just everything I aspire to be and more!"

#13 An Instagram feed everyone needs to follow?
"Right now I'm loving @modern_messybun. Watching someone create satisfyingly perfect clay jewellery seems to calm me. She's a pretty epic entrepreneur too!"
Discover more from Rebecca Frost Photography and her wonderful boudoir photography sessions, and get 10% off with our exclusive code 'FTLOP'. What are you waiting for?
Credits:
Makeup Artist: @lubernier_mua
Model: @htaeast
For more bridal inspiration head back to the For The Love Of Pearls blog.